20 March 2008 Edition
Adams welcomes US support for transfer of powers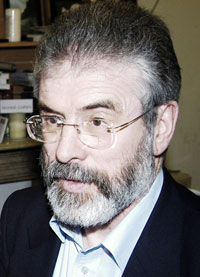 Sinn Féin President Gerry Adams, who attended a St. Patrick's Day event in the White House, welcomed a call by US President George Bush for the implementation of the Transfer of Justice and Policing powers as agreed at St. Andrews.
Bush's comments echoed those of Taoiseach Bertie Ahern in his St Patrick's Day speech in Washington.
Speaking after the White House event and the speakers lunch Gerry Adams said:
"The overwhelming majority of people in the North want the Transfer of Powers on Policing and Justice to go ahead.  So do the people of the rest of Ireland. So too do the Irish and British governments. President Bush's support for this is very welcome. It is clear that there is a consensus position on the imperative of moving ahead with the transfer of policing and justice powers, and no good reason for the DUP to stall any longer on fulfilling their obligations under the St. Andrew's Agreement."
The Sinn Féin President also welcomed the Taoiseach's support for the plight of the undocumented Irish and joined in his call for this issue to be resolved quickly.
Powell comments
Asked about comments by former chief of staff at 10 Downing Street, Jonathan Powell in his book that former British Prime Minister Tony Blair asked to meet the IRA. Adams said:
"Mr. Blair did raise this possibility on a number of occasions, however the leadership of the IRA did not feel that such a meeting would be helpful to the process."
Also commenting on Powell's statement that the British government helped to write some republican statements, Adams said:
"Irish republicans helped write some British Government statements. It is normal in a process of negotiations for opponents to exchange drafts and seek to persuade the others to use words or language that would be helpful. Sinn Féin exchanged drafts at different times with the British and Irish Governments and with the unionists. All of them used words suggested by Sinn Féin. The success of this approach is evident in the advances that have been made and the fact that the political institutions are now functioning."
At the annual Friends of Sinn Féin St. Patrick's Day breakfast in Washington, attended by senior trade union leaders, Congress members and Irish American activists, Gerry Adams and the North's Deputy First Minister Martin McGuinness made a presentation to Congress member Jim Walsh of Syracuse who is retiring this year. Gerry Adams praised Walsh saying he has given "years of stalwart and consistent support to the Irish peace process".