20 March 2008 Edition
Matt Treacy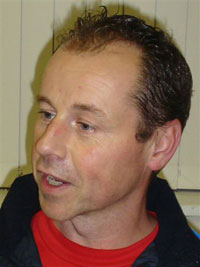 Pivotal moves in Croke Park
WELL, now we can all get back to hating Vincent's and they can get back to telling us how superior they are to everyone else! Seriously, though, I doubt that there were any GAA people in Dublin who were not happy to see them win last Monday. Okay, that's probably an exaggeration.
In the first half they looked as though they would do to Nemo what they had done to Portlaoise and Crossmaglen but, in fairness to Nemo, they have been in that position before and they came out a different team in the second half. Vincent's ought to have been further ahead at the break than six points and for a long time it looked as though they might live to regret the missed chances.
Nemo established superiority in the middle of the field and patiently set about breaking down the Vincent's defence. Twice they brought the margin to one but on each occasion Vinnie's raised the siege and Mossy Quinn was vital in both retaining possession and kicking the scores that kept them ahead and left Nemo chasing a goal in the last ten minutes. Vincent's were cute enough at that stage to prevent any movements that might expose the net and the frees conceded were never going to be enough. Indeed, Masters made a strange decision to go for a point at the death when it must have been clear that time was up (although he may have been trying to drop the ball into the square).
Those who place great weight on tradition will point to Vincent's as an example of what they mean.
They were possibly lucky to win the Dublin final but it is also unlikely that their near conquerors, Bridget's, would have gone as far. But once Vincent's had bridged the long gap between Dublin titles they were in familiar territory. Mickey Whelan had won the All-Ireland with them in 1976 and there was a wealth of experience on tap around Marino from the likes of Heffo and Keaveney and O'Driscoll.  And that, in essence, is tradition: distilled experience.
Special mention must go to Pat Kelly who played despite losing his father on the morning of the match. His family insisted that he play and he did not let them down.



THE hurling final was eagerly awaited, not least for the chance to see two legends of the game. One, Brian Whelehan of Birr, was bidding for his fifth All-Ireland medal, while the other, Joe Canning of Portumna, was, incredibly at the age of 19, chasing his second to go along with All-Ireland minor and under-21s.
It was a day that could not have been more different for the two men. Whelehan is unlikely to grace Croke Park again and he was sadly sent off in the last minute. Indeed, I cannot ever recall seeing him being sent off previously although that might be sentiment. Still, when the memory of last Sunday fades, he will be recalled as one of the genuine legends of the game – the only hurler of the last 30 years to have been selected for the Team of the Millennium.
If there is a team of this millennium you would probably only get short odds about the chances of Joe Canning being on it. And he has not even played senior inter-county championship for Galway yet. Coming after his brilliant performances in last year's All-Ireland under-21 championship and recently with Limerick IT (for whom he scored 1-16 when on the losing side in the Fitzgibbon Cup final), hurling followers in all counties were eager to see him on the national stage.
And he did not disappoint. Although quieter than normal in the scoring stakes, posting a mere ten points, Canning was pivotal to the Portumna victory. When not creating chances inside he roamed far afield, winning possession and setting up attacks, although his most memorable contribution was a sublime sideline cut sent over the bar from about 60 yards out on the Hogan Stand side.
It is a huge burden to place on a young chap but if Galway are to win a senior All-Ireland in the next four or five years, as many believe, then Canning is sure to be central to it all.
The match itself was pretty one-sided. Portumna had been short-priced favourites since the exit of Ballyhale Shamrocks and were only value for the big hitters on the day at 1/3 and shorter. A detached view of the two sides' progress to the final would have indicated that this was about right and had it not been for Birr's two early goals the match would have been beyond reach at half-time. But even at that, once Portumna went in four points to the good, you felt that only a miracle could save the Offaly men and miracles don't happen that often in hurling. The question now is whether there is a club team in the country good enough to beat them next year.




IN the cloisters of Croke Park, affairs other than football and hurling were being discussed.
On Friday the 'Of One Belief' group, opposed to the awarding of grants to inter-county players, had a hearing before the Disputes Resolution Authority. It resembled more a courtroom rather than a sports meeting and neither side managed to convince the other of the validity of the constitutional issues at stake.
On Monday, Central Council approved the grants scheme as agreed in December and so the matter will go to Congress next month, where opponents will be hoping to convince sufficient delegates that the scheme breaches Rule 11. It promises to be one of the more pivotal debates of recent years and unlike opening Croke Park is sure to be far closer and with a good chance that it may well go against Central Council. If that is the case then we could be in for a very interesting and possibly acrimonious couple of months leading to the championship.

An Phoblacht Magazine
AN PHOBLACHT MAGAZINE:
Don't miss your chance to get the second edition of the 2019 magazine, published to coincide with Easter Week
This special edition which focuses on Irish Unity, features articles by Pearse Doherty, Dr Thomas Paul and Martina Anderson.
Pearse sets out the argument for an United Ireland Economy whilst Pat Sheehan makes the case for a universally free all-island health service.
Other articles include, 'Ceist teanga in Éirinn Aontaithe', 'Getting to a new Ireland' and 'Ireland 1918-22: The people's revolution'.