13 March 2008 Edition
Newry job losses - a body blow for workers and community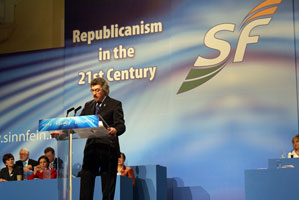 NEWS of redundancies at both the Glen Dimplex Factory, Newry, and the local Housing Executive office is a body blow not just to employees and their families but the wider community and the local economy, Newry/Armagh MLA Mickey Brady said.
Mickey Brady voiced growing concerns on the issue of the local Housing Executive office.
"On the one hand, assurances are being given that the busy office will remain open and fully resourced whilst, on the other hand, workers are being laid off or moved out and direct contact with Housing Services lost.
"Remaining Housing Executive employees that I have spoken to are concerned and afraid for their future. What cannot be allowed to happen is that the Newry Housing Executive office will basically become a 'shop front' type of facility.
"The people of this area are entitled to full access to services at local level. Housing is a key, priority issue for a large section of the community living in the locality. Day and daily I am contacted by people who are caught up in the housing trap seeking advice and support. Any continued dilution of the workforce or services available in the Newry office is not acceptable,"