13 March 2008 Edition
Republican women celebrated in Stormont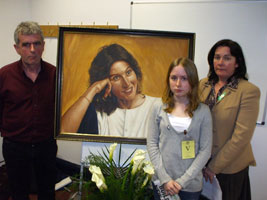 THE ROOM was packed. If Jeffery Donaldson had imagined that his opposition to a commemoration organised by Sinn Féin to mark International Women's Day would overshadow the event, he must have been more than disappointed. Every seat and every available space was taken.
At one point, Sinn Féin President Gerry Adams suggested running the event twice in succession, just to accommodate the turn-out. Clearly, the few unionist protestors who did turn up failed to deter attendance.
Sinn Féin's decision to use Stormont as the venue to commemorate Mairéad Farrell and the contribution of other republican women might have angered some unionists but it seemed totally appropriate to those gathered in Sinn Féin's conference room last Friday.
After all, as event organiser Jennifer McCann pointed out, if Mairéad had not been killed by the British SAS in Gibraltar 20 years ago, "she would probably have been standing in Parliament Buildings as an elected Sinn Féin politician". Jennifer McCann, now an MLA for West Belfast, spent time in Armagh Jail in the 1980s alongside Mairéad Farrell, as did Lisburn Councillor Angela Nelson.
In an affectionate tribute, Angela Nelson described Mairéad Farrell as a young republican prisoner in Armagh Jail, her commitment during protests around political status and her courage facing brutal repression, including strip-searching by a prison regime determined to break their spirits.
Sinn Féin former General Secretary Lucilita Bhreathnach described the impact of Mairéad's death in Gibraltar and the ordeal of waiting for the bodies of the three Volunteers to be returned to Ireland. But the event was never simply about commemorating the past – it was also about looking to the future.


MAIRÉAD'S LEGACY
Lisburn Councillor Charlene O'Hara spoke of her role as a young republican woman and political representative.
Mairéad Farrell was already dead by the time Charlene was born but that doesn't diminish her legacy of struggle bequeathed to young republican woman. Charlene identified the importance of Mairéad's commitment to women's equality and socialism as part of the national question.
"So long after her death, Mairéad Farrell remains an empowering figure for women within the contemporary republican movement," said Charlene.
Organised by Sinn Féin MLA Jennifer McCann, the commemoration of Mairéad Farrell had been scheduled to take place in Stormont's Long Gallery. Opposition from the DUP had resulted in the introduction of further restrictions. With SDLP support, unionists established a veto on events held in Stormont's public venues by grafting cross-community support criteria to established regulations.
Ian Paisley Jnr described any commemoration of Mairéad Farrell as "repulsive"; DUP MLA Jeffery Donaldson labelled the International Women's Day event as "inappropriate". Donaldson suggested if the commemoration of Mairéad Farrell went ahead, Stormont should host a "tribute" to the SAS. SDLP Chief Whip Patsy McGlone welcomed the decision to impose further restrictions.
A ban on television crews filming events collapsed into confusion after TV crews ignored restrictions placed on filming in Sinn Féin's conference room and the commission realised their decision pulled the plug on TV coverage of Assembly proceedings in the debating chamber.
Describing the decision to place further restrictions as "unfair and undemocratic", Jennifer McCann said if the building at Stormont cannot be a shared space that reflects the history and culture of all people in society it must become a neutral space.
"It cannot continue to reflect one tradition and one culture," said McCann. Sinn Féin has called for an audit of unionist symbols and emblems within Parliament Buildings. Meanwhile, Sinn Féin President Gerry Adams has cautioned against unionists picking sham squabbles with republicans as a means of alleviating the internal tensions within unionism.


REALITY OF SHARING POWER
There are some people who would like republicans to be other than they are. There are some who would like us to pretend to be other than we were. The IRA was never defeated and Sinn Féin never marginalised but there are those who believe we should act as if they were. They would like to airbrush our experience out of history.
The undeniable fact that many of our prominent political leaders were once active participants in the armed struggle and former POWs sits too uncomfortably with their own version of the past, a past in which republicans could face arbitrary arrest, torture, non-jury convictions or summary execution amidst the pretence that their lives counted for nothing and their aspirations were criminal.
But it's a version of history that sits too uneasily with the reality of sharing power with republicans. Up close and personal, republicans are not only decent human beings, they can also be inspirational. And that's just what Mairéad Farrell was and is – inspirational.
Dublin Women's Day event pays tribute to Mairéad

BY HELEN McCORMACK


DUBLIN'S Liberty Hall was the venue for a festive evening of song and celebration on International Women's Day and in remembrance of Mairéad Farrell to mark the 20th anniversary of her death in Gibraltar. 
A vigil to mark the summary executions of Mairéad and her comrades, Volunteers Seán Savage and Dan McCann, was held at 6.30pm outside the GPO.
The evening in Liberty Hall was hosted by Dublin MEP Mary Lou McDonald  and included an address by Joanna McMinn, head of the National Women's Council of Ireland.
McMinn drew on stark statistics to demonstrate Ireland's abysmal track record in relation to the amount of women in political life. Her message was that there is a huge need for women to become more involved in politics and that increasing our influence in key areas of decision-making is critical in advancing progressive social policy. She said there is an ongoing need for more supports to facilitate women's participation. 
A showing of the film Women in Struggle commemorated not just Mairéad but many other quite extraordinary women who played their part over the years, spanning almost a century of republican resistance, with some incredibly moving accounts by women prisoners of their time in Armagh. Subjected to the humiliations of routine strip-searching, beatings and other forms of abuse that were part of prison life, the courage of the narrators as they recounted their experiences was very moving. It was made all the more poignant by their humanity and their view of themselves as 'ordinary' women. The sight of hundreds of women marching in the streets of Belfast and Derry certainly gives the lie to what we may consider ordinary.
Ella O'Dwyer reflected on her own time in prison, of the solidarity with her comrades and the support they extended to other prisoners being denied their rights. She told of a recent trip to Brussels with other former prisoners and of visiting one building which actually had a glass ceiling.  Looking up, she recalled that she would do like many women, she would look right through that glass ceiling and not even see it, and she urged us to do the same with our own glass ceilings. It was a strong message which Dublin City Councillor Críona Ní Dhalaigh could certainly relate to as she told of the challenges involved in managing family life with her busy work as a councillor.

UNDER SIEGE
No one could have been left unmoved by the story told to us by Suha Khano, a Palestinian woman living in Ireland for the past five years.  She spoke of the difficulties endured by her people as they struggle to carry out ordinary, everyday tasks while under siege. Hospital and emergency services are often accessed too late and many Palestinian women have undergone the heartbreak of losing a baby at birth because they were unable to get to a hospital on time.
But the evening did not just focus on the many struggles that women have faced. We had wonderful music too, with sean-nós singer Roisín Elsafty's beautiful song about Palestine, composed by her mother, a regular visitor to the Gaza.  We had humorous songs from Anne Buckley and Roisín Gaffney and ended with The Ballad of Mairéad Farrell, sung by Áine Downes.
All in all, it was a joyous evening, for which no small thanks is due to other members of the Sinn Féin Equality team for their organising skills, to Mary Lou for bringing the evening together so well, and most especially to all our speakers and performers who gave us such pleasure and reminded us of the work that still needs to be done.