13 March 2008 Edition
SF meets DUP in 'crisis' talks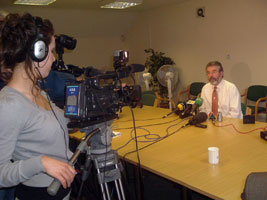 BY LAURA FRIEL
SINN FÉIN has held a behind the scenes meeting with the DUP in an attempt to avert possible difficulties in the power sharing executive. Sinn Féin President Gerry Adams met DUP deputy leader Peter Robinson this week to discuss difficulties arising over a number of key issues, including the Irish Language Act, the development of the Long Kesh site and transfer of policing and justice powers.
The meeting followed a series of attempts by the DUP to block progress, as well as a number of offensive comments by unionist politicians. Adams said he was confident that the issues would be resolved and it would be better if they were resolved in a sensible and calm manner.
"My concern would be that some DUP people just may lose the run of themselves, insult everyone else and talk the whole situation into a crisis. That must be avoided," said Adams.
Recent comments by DUP MLA Nigel Dodds have been particularly ill advised and have caused offence not only within Sinn Féin but also within the wider nationalist community.
The GAA has made representations to Sinn Féin concerning recent offensive DUP remarks.
Nationalists were also offended by the triumphalist tone of Nigel Dodds following the DUP's blocking of transfer of powers on policing and justice in the Assembly this week.
"Devolution of policing and justice cannot occur until the DUP say so", the DUP MLA said during a Stormont press conference. He went on to claim that the DUP had consigned the Irish Language Act "to the dustbin".
"Many people are offended, with justification, by the utterances from some senior DUP figures. There is a need for everyone to calm down in this period," said Adams.
"Clearly the DUP is going through turbulence. Ian Paisley has been the leader of the DUP since its foundation. There is a short period of transition. It is up to the incoming leader of the DUP to ensure that all of the matters which are a big concern to people who live here are dealt with properly," said Adams.
The Sinn Féin President cautioned unionists against attempting to reduce the operation of power sharing to the constant deployment of a veto. The veto was double edged, warned Adams. In other words, the DUP are unable to secure their priorities without Sinn Féin's consent.
"So let's work this out sensibly by sitting down and talking the issues through and serving the people," said Adams.
"Picking fights with Sinn Féin is not the way forward or the way to build sustainability in the political institutions. As we work to persuade US investors to attend an investment conference in May, picking sham fights will only serve to dissuade businesses to come here," said Adams.