28 February 2008 Edition
A political gamble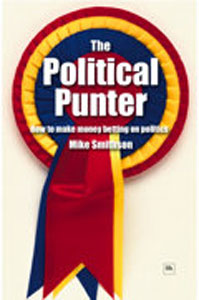 BOOK REVIEW
The Political Punter:
How to make money
betting on politics
By Mike Smithson
Published by
Harriman House, England
Price Stg £12.99

REVIEWED BY
BRENDAN KERR
THE betting coup carried out by dozens of priests when they got the Monaghan-born Monsignor Noel Treanor added as a very late candidate to the list of six 'runners' to be the new Bishop of Down and Connor – netting them €7,000 at odds from 7/1 down to 5/4 in the space of four hours – mirrors the story Mike Smithson tells on the opening page of his Introduction in The Political Punter.
At 11pm on the night before the 2005 British general election, a staunch Methodist, strongly opposed to gambling, knocked at Mike Smithson's door with £500 in cash. He'd been working with the Liberal Democrats and he wanted to bet on the Lib Dems holding the local seat against a concerted campaign by a high-profile Conservative candidate and celebrity political blogger, Iain Dale.
"But Patrick," Smithson said earnestly to his late-night caller, "gambling is against your religion and you have never put a bet on in your life". His visitor had thought about this. "But it is only a gamble if there is an element of risk involved," he replied. "We are going to hold on to the seat by a shed-load of votes tomorrow and it would be wrong for me not to make a little profit from it." It seems that 67 Irish clergy who cashed in on a little more than divine inspiration similarly made their peace with their god – as well as a tidy little profit.
Smithson is a veteran political punter and even with his expertise – in May 2005 he put £50 at 50/1 on a little-known US presidential hopeful by the name of Barack Obama – he cautions: "The hard fact that usually only the bookmakers win in the end and the gamblers usually lose applies to the body of all punters." His book aims to tip that balance a little bit back in our favour.
The Political Punter is aimed at three groups of people:–
1) People who regularly bet on politics;
2) Those with a keen interest in politics and who are attracted to the idea of using their knowledge for potential profit;
3) Those who gamble in non-political markets who would like to extend their operations into the political arena.
It is, as it says, a 'how to' book so it's not a gripping political thriller, although it uses various interesting case studies of elections and leadership contests in Britain, the United States and mainland Europe. It does, however, take you through the history of political betting, the various forms of betting (from just trolling into your humble high street betting shop to internet betting, betting exchanges and the mysteries of spread betting), a glossary of betting terms, useful websites such as OddsChecker and Bestbetting.com and Politicalbetting.com (the latter two of which the author openly admits personal interests in), and "Ten Tips for Profitable Political Betting."
Mike Smithson's The Political Punter is a useful, straightforward guide for political activists who like a wager. Just don't let your heart rule your wallet and only bet what you can afford to lose.