28 February 2008 Edition
Blaze at Shell refinery site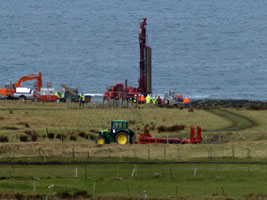 BY ADAM MURPHY
A LARGE fire occurred at the site of the controversial proposed Shell refinery in Erris, County Mayo, last Friday, in the woods at Bellinaboy. The flames could be seen from across the estuary in Rossport. Flames were first seen at around 9pm and the fire raged until the next morning when three units of the Mayo Fire Brigade reported that it was extinguished at 4am.
While Shell issued a statement very quickly, saying the fire had been caused deliberately, others were slow to speculate.
"It's hard to know what could have caused it," said Mary Corduff, whose husband, Willie, was imprisoned for opposing the production pipeline and refinery scheme in 2005, "It would be hard to believe anyone involved in the campaign to protect the local environment would have anything to do with it, but it's hard to see why someone in favour of the project would start a fire either."
Shell claimed that "several thousand euros" worth of building materials were burned in the fire, which started at the site where the company had constructed a section of the disputed high-pressure production pipeline illegally. When the company was forced to remove this, they left the wooden mats and other building materials in place. It was these which were destroyed in the fire.
Earlier in the week, Shell had begun to undo other work they had carried out illegally, this time at the Special Area of Conservation at Glengad. Last October, they had begun drilling deep bore-holes on the beach but were stopped by protesters and eventually ordered by the Department of Environment to return the area to its former condition.
Local people were dismayed to see that the company used caterpillar-tracked vehicles on the delicate machair sand dune environment. The alkaline machair grasslands form an extremely rare habitat, which only exists in some parts of north and west Scotland as well as Ireland and is unknown in the rest of the world. It seemed to many people that Shell was causing more damage to the conservation area in the new work than they originally caused drilling the illegal bore-holes.
No representatives of the Parks and Wildlife Service supervised the Shell contractors. Local people were kept away by a large force of gardaí, augmented by private security guards.
• IN DUBLIN, on Saturday, 23 February, a protest at the Shell station in Glasnevin was photographed by Special Branch detectives who refused to identify themselves or explain why they were there.
While the company which owns the Shell forecourts in the 26 Counties is responding to protests by changing the brand to 'Topaz' it seems petrol for the garages will still be sourced from Shell.