28 February 2008 Edition
Sinn Féin Host Campaign Groups - Underground Cabling Explained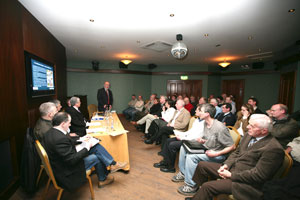 REPRESENTATIVES of community groups from across five counties campaigning for the undergrounding of electricity transmission cabling by Eirgrid and Northern Ireland Electricity (NIE) were guests at a Sinn Féin-organised information evening on the undergrounding option in the Carrick Court Hotel outside Carrickmacross on Friday, 22 February.
Organised by the Sinn Féin Anti-Pylon Steering Group and chaired by Monaghan County Councillor and Castleblayney Town Mayor Jackie Crowe, the meeting was addressed by guest speaker Simon Allen, a strategy advisor to Europacable, the representative body of European cable manufacturers.
Allen delivered a detailed talk on the merits of undergrounding as against overhead pylon-supported power lines. With the aid of a Power Point presentation, he graphically explained the historic use of the underground option, its current employ in a number of international projects and its role in future infrastructure developments.
An already well-informed audience of between 80 and 100 key local group leaders engaged Mr Allen in a detailed and at times surgical examination of the comparisons between the overhead and underground approaches open to Eirgrid and NIE.
Sinn Féin Dáil Leader and Cavan-Monaghan Deputy Caoimhghín Ó Caoláin also addressed the meeting. He thanked his colleagues on the Sinn Féin Anti-Pylon Steering Group, Cllr Michael Gallagher (Meath County Council), Cllr Paddy McDonald (Cavan County Council), Cllr Noel Keelan (Monaghan County Council), Cllr Paul Corrigan (Armagh City and District Council), James Gildernew (South Tyrone) and Cllr Jackie Crowe, the Group Convenor, for their focused approach to the campaigning work entrusted to them. He praised the tenacity and willingness to research and learn shown by the community groups who were spearheading the campaign of opposition to the proposed overhead pylon-supported power lines. He thanked Simon Allen for returning to Ireland at Sinn Féin's invitation and for his much-appreciated insight into the technologies involved.
Concluding, he again pledged Sinn Féin's support for all affected communities along the entire length of the suggested routes from Tyrone to Cavan and from Meath to Cavan.
Cllr Jackie Crowe brought the meeting to a close. He also thanked Mr Allen and all who participated in the lively Q&A following a very informative address and reiterated Sinn Féin's support for the campaign to have the planned power lines placed underground.
The attendance had a chance to network and discuss strategies over tea and coffee provided at the close of the meeting.