28 February 2008 Edition
Garda Ombudsman overburdened and under-resourced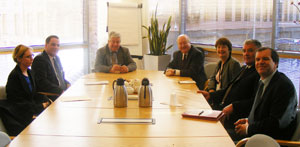 Sinn FÉin Justice spokesperson Aengus Ó Snodaigh TD had what he called "a useful and informative meeting" with the three Garda Ombudsman Commissioners on Tuesday, 26 February, during which he outlined some of the party's concerns in relation to its operation so far.
Speaking after the meeting, Ó Snodaigh called for adequate resources for the Commission to allow them to achieve their stated and essential mission of providing an effective complaints mechanism.
"Sinn Féin has a number of concerns regarding the operation of the Garda Síochána Ombudsman Commission. These include delays in responding to and progressing complaints, failure to return calls, expiry of the Commission's own time-frame commitments and failure to provide reasons for decisions, thereby undermining the credibility of the process. We are also concerned at the use of correspondence the wording of which is almost identical to that of the old Garda Complaints Board.
"The Ombudsman Commission confirmed to me today that they are over-burdened and under-resourced. Since they opened their doors to the public, in May 2007, they have received some 3,500 complaints, 900 of which alleged criminal behaviour on the part of gardaí. They have just 30 investigators to deal with this caseload. Steps must now be taken by the Justice Minister to enable the Ombudsman Commission to manage its workload.
"Sinn Féin is of the view that, if the Garda Ombudsman is to achieve its stated and essential mission of providing an effective complaints mechanism in which the public can have confidence, then the Government must make additional resources available."