28 February 2008 Edition
Butler welcomes arrest of leading loyalists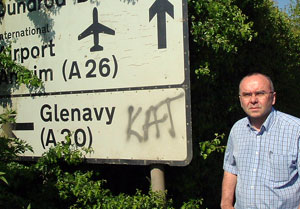 BY PEADAR WHELAN
TWO LOYALISTS believed to be behind a decade-long campaign of intimidation against Catholics in the village of Stoneyford, County Antrim, were arrested by the PSNI last week.
Welcoming the development, Sinn Féin Lagan Valley Assembly member Paul Butler said the pair are alleged to be the ring-leaders of the campaign of intimidation against Catholics in Stoneyford.  
"I welcome the recent arrest by the PSNI of these leading loyalists who are believed to have orchestrated the relentless intimidation campaign against Catholics in Stoneyford Village.
"I have received information the two have been released pending further investigation."
However, Butler went on to reveal that, within a short time after the loyalists were set free by the PSNI, one of the pair threatened him
"One of these individuals accosted and threatened me. I intend meeting with the PSNI in the coming days for the purpose of bringing charges of threatening behaviour and intimidation against this individual.
"The failure over a long period of time by the PSNI to take resolute action against these individuals has created a perception in the Catholic community that certain people connected to extreme unionism are not amenable to the same vigorous application of the law as those in the nationalist community.
"This is unacceptable and the PSNI must be seen to be seriously pursuing those responsible for all crimes against the community. This must include ruthlessly rooting out those involved in hate crime such as this sectarian campaign being waged against the Catholic population of Stoneyford. I therefore welcome the recent arrests by the PSNI of these individuals."  
Just last week, Paul Butler called for a full inquiry into the PSNI's handling of the campaign of intimidation that is being waged by loyalists in the area and stressed that the man behind the sectarianism is thought to be a Special Branch agent.
Butler has consistently accused the PSNI of refusing to tackle the threats and constant attacks directed at Catholics in Stoneyford. He has highlighted the recent news that one family – subjected to persistent intimidation  – have recently announced their intention to leave their home.
In the latest threat, the PSNI told the family they were not in a position to tell the family the exact nature of the threat or who was under threat.
"The PSNI say they are taking the threat 'seriously'. Yet, this remark seems to be the only part of this threat that the PSNI are taking seriously because they are failing to protect this family and other Catholics in the village from the loyalist gang who are based in the village.
"This gang is well known to the PSNI yet they are doing nothing to curtail their intimidatory and sectarian behaviour.
"Two weeks ago, I met the assistant chief constable and the police officers in charge of the area. I was given an assurance that the PSNI would act to deter this gang. I am still waiting on an effective response.
"They roam the village intimidating people at will. This is totally unacceptable. The PSNI must immediately act to protect Catholics from this loyalist gang."