28 February 2008 Edition
Farewell, Fidel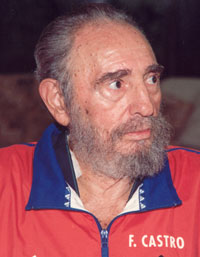 FIDEL CASTRO'S stepping down as president of Cuba naturally received a mixed reception by world leaders. His contribution to socialism and internationalism was warmly acknowledged by progressive countries and greeted with sabre-rattling by Cuba's enemies.
In his own resignation speech, and in a clear reference to the United States, Fidel Castro said:
"The adversary we must defeat is extremely strong but we have kept him at bay for half a century. I do not bid you farewell. My only wish is to fight as a soldier of ideas."
In his acceptance speech after succeeding his 81-year-old brother, Raúl Castro declared:
"Fidel is irreplaceable. The people will continue his work when he is no longer with us physically, though his ideas always will be here.
"I accept the responsibility I have been given with the conviction I have repeated often – there is only one Commander in Chief of the Cuban Revolution: Fidel is Fidel and we all know it well."
Venezuela's President Hugo Chavez said that although there has been a change in leadership there will be no change in his country's relationship with Cuba.
"Nothing is going to change. We are going to continue to be united, only in unity can we progress to further victory."
And he saluted his good comrade, Fidel.  
"Fidel, comrade, you continue to be El Comandante Fidel. Viva Raúl! Viva Fidel! Viva Cuba!"
South Africa's President Thabo Mbeki said the South African government is looking forward to working closely with the people of Cuba and acknowledged the significant role played by Cuba in the decolonisation of Africa in general and South Africa in particular.
"Cuba has always occupied a special place in the collective memory of our people for the immense sacrifices made by Cuban internationalist forces in the decolonisation process of the continent of Africa.
"Indeed the victory of our people over the evil system of apartheid in this southern most part of the continent is as much a victory of the Cuban people as it is the victory of the people of our country," Mbeki said.
The South African president said the world wishes Fidel Castro well in his retirement.
"As President Fidel Castro bows off the political stage, all of us like the rest of humanity can only but wish him a well deserved rest, knowing full well that the Cuban people will continue to derive inspiration from his experiences."
But not every world leader wished Fidel Castro well.
The United States government's secret services and mercenary forces have tried to topple Cuba's government in numerous plots and there has been no fewer than 638 attempts on Fidel Castro's life. President George W Bush was in no mood for sending good wishes.
He said that the resignation of Fidel "ought to be a period of democratic transition" for Cuba and that the country must hold free and fair elections.
"And I mean free and I mean fair, not these kind of staged elections that the Castro brothers try to foist off as true democracy."
Left-wing columnist and comedian Mark Steel, writing in Britain's Independent newspaper, suggested that the White House's adherence to democratic values might depend on whether Washington likes you or not.
 "The blockade, according to the US, is against the lack of freedom and democracy on the island. Which is why they wouldn't dream of trading and selling billions of dollars' worth of arms to any countries except free democratic ones, such as Saudi Arabia and Uzbekistan, where hardly a day goes by without frolicking families dancing merrily to the polling booth for yet another vote."
George W Bush also greeted Fidel's retirement with a call that: "The international community should work with the Cuban people." They could start by ending the economic blockade against the Cuban people.
An Phoblacht Magazine
AN PHOBLACHT MAGAZINE:
Don't miss your chance to get the second edition of the 2019 magazine, published to coincide with Easter Week
This special edition which focuses on Irish Unity, features articles by Pearse Doherty, Dr Thomas Paul and Martina Anderson.
Pearse sets out the argument for an United Ireland Economy whilst Pat Sheehan makes the case for a universally free all-island health service.
Other articles include, 'Ceist teanga in Éirinn Aontaithe', 'Getting to a new Ireland' and 'Ireland 1918-22: The people's revolution'.