28 February 2008 Edition
Burke says Gilmartin's claims without foundation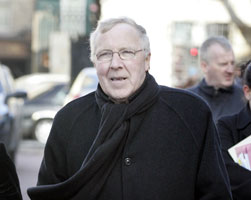 SINN FÉIN Dublin City Councillor Christy Burke appeared at the Mahon Tribunal on Tuesday, 26 February, to deny allegations by property developer Tom Gilmartin who told the tribunal that he was one of three men who said they were from the IRA and warned him to stay away from Clondalkin. The tribunal is inquiring into certain planning matters and payments.
Christy Burke also said he never met Owen O'Callaghan, who Gilmartin claims orchestrated the threatening meeting in the late 1980s or 1990s. He said:
 "The facts are very straightforward. I have never met Tom Gilmartin in my life. I have been a councillor for the North Inner City of Dublin for more than two decades and have worked tirelessly on behalf of the people of this area.  I was never a member of Dublin County Council and had no vote or influence in relation to Quarryvale.  In fact, Sinn Féin had no member on Dublin County Council at that time and therefore did not have a vote on this matter."
Burke said that John McCann, who was a member of Sinn Féin in Quarryvale at the time but not a member of Dublin County Council, did meet Gilmartin and O'Callaghan.
"He did so in his capacity as secretary of the Quarryvale Residents' Association and was accompanied by its chairperson," Christy Burke said.
John McCann has already made a full statement to the tribunal.
Christy Burke pointed out that, in the early 1990s, Clondalkin and Blanchardstown were suffering acute deprivation and poverty with rapid population growth.  Some estates had grown by more than 50 per cent between 1986 and 1991 and had unemployment rates of up to 46 per cent.  Transport in and out of the area and resources in local schools and community centres were minimal while leisure facilities were basically non-existent. And there was a growing heroin epidemic.
Sinn Féin supported Quarryvale
 He said that Dublin Sinn Féin had publicly supported the Quarryvale and Blanchardstown projects "for the simple reason that we believed that both centres were viable and if properly developed could have made a huge contribution to both communities". He went on to explain:
"The completion of The Square in Tallaght in 1990 had a profound effect on local communities across Dublin at the time.  Here was a state-of-the-art centre in an area suffering from high unemployment and a serious drugs epidemic, providing not just much-needed shops, but employment opportunities as well as leisure facilities.
"Unfortunately, the expectations of local people in Clondalkin and Blanchardstown were never realised. They were badly let down by those politicians guilty of corruption and those who abandoned them at state level.  There is still an appaling lack of infrastructure in the form of roads and transport, local shops, schools, health centres and leisure and community amenities.  The vast majority of the problems still being faced in these communities have come about as a direct consequence of the corruption in planning and local government which was rampant in Dublin in the 1980s and 1990s.
"The disdain with which locals were treated can be seen in the way in which developers have refused to this day to allow a pedestrian crossing from Quarryvale Estate to the retail outlets at Liffey Valley, forcing local people to walk unnecessary distances and cross busy roads to get to what were meant to be local shops.
"Sinn Féin has supported the work of the tribunal since it was established more than a decade ago and we have done all that we can to co-operate with it. However, it is frustrating that so few prosecutions have resulted from the Tribunal's work to date."
Meanwhile, John McCann and the former chairperson of the Quarryvale Residents' Association, Pat Jennings, have told the tribunal that developer Owen O'Callaghan kicked his then business partner Tom Gilmartin when he mentioned a £50,000 payment to a senior politician and that an embarrassed silence followed.
McCann said Gilmartin was loudly "effing and blinding about Irish politicians being a bunch of corrupt bastards" at the meeting in the Jensen Hotel in 1991 which was also attended by lobbyist Frank Dunlop.
The tribunal heard that Gilmartin denies the meeting ever took place.