28 February 2008 Edition
Ferris backs farmers' protest against WTO concessions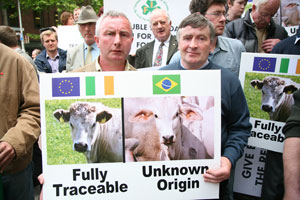 THE Irish Government must speak up for Irish farmers and consumers by fighting EU Trade Commissioner Peter Mandelson's bid to open up the EU to meat imports from South America, Sinn Féin TD Martin Ferris said this week.
The Sinn Féin Dáil spokesperson on Agriculture was speaking during a protest at the offices of the EU Commission in Dublin on Tuesday, 26 February, organised by the Irish Farmers' Association against the negotiating stance of Peter Mandelson at the World Trade Organisation.
Mandelson's offer to open up the EU to imports of meat from South America could lead to drastic cuts in stocking levels in this country with consequent knock-on effects for the processing sector and job losses, Ferris said. It would undermine economic sovereignty.
"Given the clear disparity in health and safety – as indeed has recently been recognised by the decision to impose a ban on the import of Brazilian beef – such an opening would be disastrous," the North Kerry TD insisted.
"Irish and other EU farmers cannot hope to compete with producers who do not have to comply with the same regulations that are in force here across a whole range of issues from animal safety to the protection of those working in the industry. It would also represent a grave danger to consumer safety."
Martin Ferris said that if Peter Mandelson is allowed to proceed it will represent another example of bad decisions being taken at EU level without much apparently being done or being capable of being done by the Irish Government to prevent it.
"The Irish Government must make its voice heard on behalf of Irish farmers and consumers and should be arguing against any further diminution of Irish economic sovereignty on such a crucial issue."