28 February 2008 Edition
The killing of Aidan McAnespie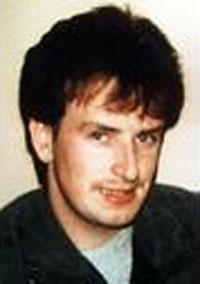 BY ART MacEOIN

On 21 February 1988, the people of Ireland were shocked at another horrific example of the British military's shoot-to-kill policy in the Six Counties when another young nationalist was gunned down.
Twenty-four-year-old Aidan McAnespie, from the border town of Aughnacloy, County Tyrone, was shot down in broad daylight, less than 300 yards from a permanent British Army/RUC checkpoint in the town. He had been hounded and harassed by the crown forces since 1981, and right up until the morning of his death, when he and his mother, Elizabeth, were stopped and detained at the Aughnacloy Ulster Defence Regiment base for two hours on their way back from the wake of a relative.
Minutes before his murder, Aidan McAnespie had left his car on the Aughnacloy side of the checkpoint to avoid harassment from crown forces and instead walked through on his way to attend a GAA match some 500 yards down the road.
He had been the target of systematic harassment since the age of 17. On the day of his death, his movements would have been routinely noted by the crown forces as he passed through the checkpoint.
His family said that a number of people saw Aidan arriving at the match and then leaving, apparently on his way to Todd's tobacconist's shop, situated about halfway between the checkpoint and the GAA pitch. Only minutes later, at approximately 2.50pm, he was lying dead on the roadway, killed by a single bullet. The widespread belief was that a British soldier carefully took aim through a small observation hatch in the watchtower and deliberately shot to kill an identified target – Aidan McAnespie.
When his sister, Éilish McCabe, saw her brother's body lying on the roadway, there was a single bullet hole in his chest. Conveniently for the British Army, there were no eyewitnesses to the killing.
Almost immediately, the British attempted to whitewash the true circumstances of McAnespie's death. The British Army issued a statement saying he was killed as a result of an "accidental discharge" from a machine gun.
To support the British Army version, the RUC swiftly prejudged the outcome of their own alleged investigations, one of "accidental shooting", by claiming that three shots accidentally discharged by a British soldier struck the road beside Aidan McAnespie. One of these bullets, according to the RUC, "ricocheted" and killed the victim.
However, few people if any in the country believed such an obvious cover-up story. As his sister, Éilish, told An Phoblacht at the time:
"It was cold-blooded murder. It's a bit much to believe that a bullet hit a target almost 300 yards away with that accuracy and for the British Army to say it was an accidental shooting. That was shoot-on-sight. There's no doubt in our minds about that. The harassment he was getting was unbelievable."
The Garda, who had also harassed Aidan repeatedly, appointed then Garda Deputy Commissioner Eugene Crowley to carry out an inquiry.
Aidan was the youngest son of Elizabeth and John McAnespie, who had six children. His life had been threatened on several occasions by British forces; he was verbally abused daily and had been assaulted a number of times. This harassment also extended to being carried out by gardaí.
The British Army and RUC knew Aidan McAnespie on sight, yet he was questioned on average twice a day, every day, as he passed through the Aughnacloy checkpoint going to and from his workplace. Eventually they murdered him. Occupying soldiers had shot dead yet another Irishman going about his business in his home town. His fellow workers held a sombre vigil for him in Monaghan town centre two days after his death. There was deep anger throughout the country and further resentment built up around the British military presence in Ireland.
The British Army/RUC cover-up of the murder of Aidan McAnespie continues to this day and Garda Deputy Commissioner Crowley's report has never seen the light of day.
Aidan McAnespie remembered at weekend of events
The 20th anniversary of the murder of Aidan McAnespie was marked by a weekend of sporting and cultural events that focused in the main on his beloved Aghaloo GFC at Aughnacloy on the Tyrone/Monaghan border.
The highlight of the four days of special events was a Gaelic football match between the Aidan McAnespie GFC Boston (USA) and the Cormac McAnallen GFC Sydney (Australia). Both teams included several home star players from both past and present, including Peter and Pascal Canavan, Anthony Tohill, Nudie Hughes and Joe Brolly
On Thursday last, 21 February, a special anniversary Mass was celebrated by Monsignor Raymond Murray at Clara Chapel in County Monaghan, Aidan's final resting place. Monsignor Murray was assisted by Fr Seán McEvoy and Fr Seán Nolan.
A ceilí followed in a marquee erected at Aghaloo GFC and was attended by former Taoiseach Albert Reynolds, Minister for Agriculture and Rural Development Michelle Gildernew MP MLA, and newly-appointed Director General of the GAA Pauric Duffy.
The unveiling of a new banner for the Sinn Féin Cumann in Aughnacloy, the Seán McCaughey/Aidan McAnespie Cumann, took place on the Friday night at Quinn's Corner. Music was provided by Gerry Cunningham and Pat Casey. The most moving moment of the evening was the singing of The Ballad of Aidan McAnespie, a song written by Gerry Cunningham shortly after Aidan's murder.
Aghaloo GFC hosted a seven-a-side minor tournament on Saturday with nine teams competing – Augher, Clogher, Aghaloo, Kileshill, Carrickmore, Errigal Ciaran, Monaghan Harps, Truagh and Emyvale.
The finals of both the A and B sections were played on Sunday, with Aghaloo coming out on top in the B final, captained by Aidan's nephew, Shea Loughran. Errigal Ciaran took the honours in the A final.

Commemoration
Several hundred people took part in the parade to the memorial to Aidan on Sunday afternoon, led by a marching band and members of the Aghaloo and Kileshill teams of 20 years ago.
Aidan's parents, John and Elizabeth, with their sons – Seán, Gerard and Vincent – and daughters – Éilish and Margo – laid wreaths at the memorial, as did representatives of the GAA clubs taking part in the seven-a-side tournament. Wreaths were also laid on behalf of the Aidan McAnespie GFC in Boston and the Cormac McAnallen GFC in Sydney.
Following a minute's silence, Gerry Cunningham sang The Ballad of Aidan McAnespie.
The guest speakers at the commemoration were Sinn Féin Dáil Leader and Cavan/ Monaghan TD Caoimhghín Ó Caoláin and former President of the GAA Dr Mick Loftus. The father of the late Cormac McAnallen, Brendan McAnallen, also addressed the crowd.
On behalf of the McAnespie family, Aidan's sister, Éilish McCabe, thanked everyone who had played a role in organising the four days of events in Aidan's memory.
The evening concluded back at the Aghaloo clubhouse and marquee with a number of presentations and closing remarks by GAA Ulster stalwarts Danny Murphy, Mícheál Greenan and Pat Darcy.
Aidan will be with us as we build the new, united Ireland
THE main address at the 20th anniversary commemoration of the death of Aidan McAnespie, was delivered by Sinn Féin Dáil leader and TD for Cavan/Monaghan Caoimhghín Ó Caoláin. Below we reprint his address.

Cuirim tús leis na focail atá le rá agam le comhbhrón ó chroí le clann uile Aidan McAnespie a maraíodh fiche bliain ó shin an seachtain seo.
Is deacair a chreidiúnt go bhfuil an méid sin ama caite ó bhfuaireamar an nuacht go raibh ár gcara Aidan maraithe ag Arm na Breataine anseo in Achadh na Cloiche. Fear óg cneasta, macánta a bhí ann. Bhí grá aige dá chlann agus dá chairde. Bhí meas air i measc an phobail, a chomh-oibrithe san áireamh. Bhí sé de cheart aige a shaol féin a chaitheamh ina thír féin. Ach thóg Arm na Breataine a shaol uaidh. Ní dhéanfaimíd dearmad air go deo.
I begin by extending our deepest sympathy and our continuing solidarity to the family of Aidan McAnespie. Every anniversary is painful for those who have lost a loved one who was so young and who had so much to live for. It is doubly painful for those who have been bereaved in such a cruel way and to whom justice has been denied. We cannot fully know the pain of Aidan's family but we can continue to stand with them and to remember Aidan with pride.
It is very hard to believe that two decades have passed since Aidan McAnespie was murdered by the British Army at the age of 24. Many of us remember the terrible day when we heard the news that this young man had been gunned down in Aughnacloy and the pall of gloom that descended over communities along the border. We were shocked but not surprised that the British Army had finally carried out the threat that they and their cohorts in the RUC had so frequently made to Aidan. For the story of Aidan's death is not just the story of what happened that Sunday afternoon, 21 February 1988. It is a story of unrelenting harassment from the British Army, the RUC and, very often also, the Garda which had been going on since 1981 when Aidan was but a lad of 17.
What was Aidan's crime in the eyes of the British crown forces? He was a young worker who had to cross the British-imposed border twice every day to travel to and return from his work at Monaghan Poultry Products. He was an honest and friendly and popular young man. He loved Gaelic games. He endured their harassment, stood up for his rights and protested against their conduct. He was Irish and he simply wanted to live his own life in his own country. That was his crime and for that his life was taken away.
I assisted Aidan and his family in their efforts to highlight his plight and to raise with the authorities in the 26 Counties and with the Catholic Church, including the late Cardinal Ó Tomás Ó Fiaich, the constant harassment Aidan was receiving. Some were sympathetic and endeavoured to act, including the late Cardinal. Others were silent.
It must be recorded that the British Army and the RUC were facilitated in their conduct towards Aidan and many others like him along the border at the time by the attitude and actions of the forces in the 26 Counties. This was because Aidan was also subject to harassment by members of the Garda Síochána, undermining any credibility the authorities in that state may have had in raising his case with the British Government.
 In one way Aidan was a victim of so-called security co-operation between the British state and the Irish Government. Less than three years before his death, the British and Irish governments had signed the Hillsborough Agreement and the main product of that Agreement was the Hillsborough Wall. Border posts and checkpoints like those at Aughnacloy were greatly reinforced by the British Army and RUC with full co-operation from the state forces in the 26 Counties. We in the border communities bore the brunt of that British military occupation.
And as we did so, successive Irish governments tried to hide the truth from the majority of people in the 26 Counties. When Aidan was murdered it was a time of political censorship. The people were not supposed to know the reality of British rule in our country. They were definitely not to be allowed hear the views of those who opposed British rule.
Such was the outrage at Aidan's death that the then Fianna Fáil government ordered a Garda inquiry. During the course of that inquiry I met with Deputy Commissioner Eugene Crowley and outlined the litany of harassment Aidan had endured. A spokesperson for the Progressive Democrats went on RTÉ radio to say that the Garda inquiry should not listen to anyone connected with Sinn Féin, even if they had witnessed the murder. That PD spokesperson was none other than Mary Harney. She was allowed to air her views on RTÉ but the elected representatives of Aidan and his community were denied by 26-County state censorship the opportunity to counter her disgraceful diatribe or to offer the truth of Aidan's sad story. 
Within weeks of Aidan's death we saw the killing of three IRA Volunteers by British forces in Gibraltar and the tragedies which followed at their funerals in Belfast and subsequently. Those were dark times but through it all, families like those of Aidan McAnespie, kept up their struggle for truth and justice.
We are in a new era now. The British Army has been withdrawn from much of the Six Counties. The UDR is gone. The RUC is gone. The tower from which the fatal shot was fired is gone. Much has changed for the better. We are building a new, peaceful Ireland based on justice and equality. But much remains to be done. The terrorist armed force which gunned down Aidan must be removed completely from our country. The border and all that goes with it must be extinguished.
When that day comes we will walk across what was once the partition frontier and we will remember Aidan. We will know that he lives in every one of us and that when we walk and play together in a free, united and peaceful Ireland, Aidan McAnespie will walk and play with us.