28 February 2008 Edition
Government frustrating efforts to have mature debate on Lisbon Treaty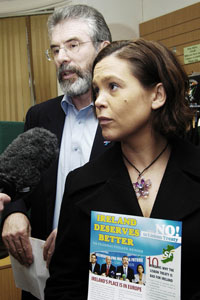 BERTIE AHERN should name the date for the Lisbon Treaty referendum on his return to Ireland according to Sinn Féin Dublin MEP Mary Lou McDonald who also called on the government to publish immediately the text of the referendum provisions relating to Ireland's neutrality.
Ahern began a three-day visit to Slovenia, Austria and Poland on Tuesday.
His trip is reportedly focussing on issues related to the European Union, security and defence, notably the United Nations' mandated EU mission in Chad.
Mary Lou McDonald said it was "ludicrous" that people in Ireland continued to wait for the Taoiseach to set a date for the referendum on the Lisbon Treaty. "Conjecture and speculation as to when it might be held are only adding to the silly season that continues unabated by proponents of the Treaty. The people of Ireland deserve a robust mature factual debate on the content of the Treaty. The government is deliberately frustrating efforts to have such a debate by dragging its heels on naming the date", McDonald said.
She said that in recent weeks proponents of the Treaty including the Taoiseach, Minister of State for Europe, Fine Gael and Labour had repeatedly rubbished Sinn Féin's position that Irish neutrality will be further undermined by the Lisbon Treaty.
"Now government has finally accepted what we have been outlining in detail to them for some time now and have stated that they intend to include a constitutional provision on neutrality in the referendum text is a vindication of Sinn Féin's position", she said.
"However when presented with the text of the provisions we must ask ourselves will Ireland's neutrality be protected as claimed by government. Will the proposed provisions halt the further consolidation of the EUs control over foreign and security policy of member states, will they guarantee that increased amounts of Irish taxpayers' money will not be spent on Irish and EU military capabilities and will they reinforce the EUs relationship with the UN and in turn distance it from NATO?
McDonald said it was worth remembering that despite the Triple Lock provision of Nice 2, Irish soldiers can take part in EU military interventions without the sanction of a UN resolution due to a change in legislation last year.
"Unless the government's proposed provisions specifically reject Articles 27 and 28 of the Treaty, which for example commit Europe to a 'common defense' and obligate member states 'to undertake progressively to improve their military capabilities', then this intervention is at best cosmetic and at worst a cynical effort by government to bury the neutrality debate", she said.