28 February 2008 Edition
Le ChÉile MUNSTER Honouree : Ella O'Dwyer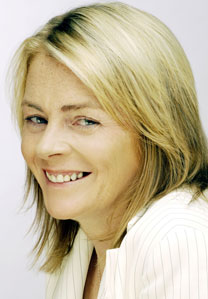 No ordinary woman
ELLA O'DWYER, from Gortnaskehy, Roscrea, County Tipperary, is the 2008 Le Chéile honouree for Munster.
Ella served over 13 years of a life sentence, nine of which were spent in English jails and the remainder in Maghaberry Prison. Sentenced in 1986 after being arrested in Glasgow the previous year with Martina Anderson, Gerry 'Blute' McDonnell, Peter Sherry and Pat Magee ('The Brighton Bomber'), she was released in 1998 under the Good Friday Agreement. Having spent regular periods of solitary confinement in Durham Prison, Ella and her republican comrade, Martina Anderson, forced the British Home Office to acknowledge the inhumane conditions in prisoners where held in one of  England's most notorious prisons - H-Wing, Durham. PHILIP LACKEN looks back at her life so far.
HAVING graduated from University College Dublin in 1982 with an honours degree in English, Linguistics and Philosophy, Ella became politically active during the first H-Block hunger strike of 1980 and cut short a back-packing trip to India when she read of the renewal of the hunger strike in 1981.
"I remember on the journey reading in a German newspaper the headline, 'Right Honourable Member of Violence,' and I knew Bobby Sands had won his seat."
But her interest in republicanism was spawned, not in Tipperary or UCD, but as a voluntary worker in a German children's playgroup.
"The people I worked with in my late teens used to think that I was English, purely because of the British presence in Ireland. I argued that we'd won the 26 Counties back but it got me thinking – about what it was to be Irish. It had never dawned on me before then that I could be seen as anything but Irish. Sometimes you have to leave your environment in order to define what that environment actually is and what it means." 
With a razor-sharp intellect and an engaging passion for history, Ella is unassuming regarding her life-long struggle that has brought her the Le Chéile honour. "I'm proud for my family who suffered a lotwhile making repeated trips to English jails."
As in so many Southern homes, republicanism was a silent given. Ella's father, Billy, died just a fortnight ago and is survived by Ella's mother, Nora, one sister (Marian) and four brothers (Darby, Philip, Liam, and Patrick). Another brother, Martin, died in May 1975.
"After I came out of prison I discovered my families' empathy with republicanism of the late 1920s when my grandfather, Martin O'Dwyer, sheltered Volunteers like Tracey and Breen. I remember also that during the Hunger Strike my mother marched beside me  on occasions and insisted on putting money into a collection box at the GPO."
Her incarceration began when she was arrested in Scotland for conspiracy to cause explosions. "My parents didn't know to what extent I was involved and didn't believe the charges would stick.
 "Conspiracy is a law that if you're charged with it, it sticks. That is what it is designed for."
And stick it did. They served 13 months on remand in Brixton Prison in south London.
"The ma and da would write every week. I remember a witty poem the da sent about the 'free food and free electricity' that myself and Martina Anderson were getting.
"My father was in poor health while I was in jail in England. He took a trip over to visit me – his first trip out of his country. He was stunned at the length of the queues in the supermarkets in Brixton, saying he felt like a child locked out of a sweet shop. He didn't notice that there was hardly any white people living there."
Ella was given a life sentence at the age of 26 along with her comrade, Martina Anderson, and both were eventually sent to Durham Prison.
 "I had my immediate family and I also had my republican family. The structure that I operated in was like that of a family. So in that sense we didn't let prison get to us. To ordinary prisoners in Durham there was a sense of utter hopelessness and despair. Because we were republicans – Martina Anderson, Martina Shanahan and myself – we set about changing prison conditions."
Ella says the medical staff there almost systematically promoted hysterectomies to be carried out on the unfortunate and usually disturbed  inmates in Durham.
"It was relatively easy for the few political prisoners in H-Wing, Durham, because we knew we could stick it out to the  end. Many prisoners were in  poor physical condition and the doctor would stand there and permit repeated periods of solitary confinement, regardless of how physically fit the prisoner might be. This went on all of the time. H-Wing  was closed down in recent years."   
The determination that saw her outlast the daily horrors of Durham still shine through.
"All republicans, regardless of their current stance on the peace process or whatever, together, we've overcome these many obstacles.
"In the end, the Brits had to choose between reforming  Durham prison and their illegal, degrading treatment of its prisoners, or close it down altogether. Those doctors must be turning in their graves to know that the inmates there have Irish republicans to thank for giving prisoners back some of their dignity."
Ella is a staff writer here at An Phoblacht and, having already written a highly political book entitled The Rising of the Moon, she feels that she may well write another.
Her primary concern, though, is for the republican family and its unity of purpose.
"I dislike this term 'dissident' republican. We should not lose sight of the fact that it's the British occupation of our country that is the issue. The British have always divided and ruled with a ruthless efficiency. The imperialists will continue to do what imperialists do. The struggle did not start in 1916 – it started the day the English claimed dominion over us and it will finish the day they leave.  That may not even be in my lifetime, but I believe it will.
"Our generation of republicans has achieved so much. But the way I see it, we don't need the war anymore; it has taken us as far as it can. There is no point in another generation of Ireland's youth spending their lives in prison, dying  in the streets or on hunger strike in some wretched hospital wing. We did that so that the next generation wouldn't have to.
"The recent death of Brendan Hughes is mourned by all of us. We mourn one of our bravest and most intelligent Volunteers and I'm proud to call him comrade. If the republican family can summon up our united strength, our day will certainly come, and sooner rather than later."

An Phoblacht Magazine
AN PHOBLACHT MAGAZINE:
Don't miss your chance to get the second edition of the 2019 magazine, published to coincide with Easter Week
This special edition which focuses on Irish Unity, features articles by Pearse Doherty, Dr Thomas Paul and Martina Anderson.
Pearse sets out the argument for an United Ireland Economy whilst Pat Sheehan makes the case for a universally free all-island health service.
Other articles include, 'Ceist teanga in Éirinn Aontaithe', 'Getting to a new Ireland' and 'Ireland 1918-22: The people's revolution'.