21 February 2008 Edition
Sinn Féin intensifies anti-pylon effort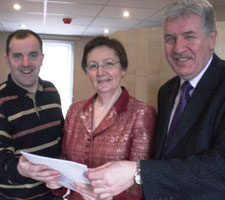 SINN FÉIN councillors and elected representatives at all levels have been engaged in a programme of heightened activity in their opposition to overhead pylon-supported power lines over the several weeks since the turn of the New Year.
A five-county steering group was formed at a well-attended meeting of MPs, TDs, Assembly members and councillors. Monaghan County Councillor and Castleblayney Town Mayor Jackie Crowe was appointed convenor.
A 17-point action programme was drawn up at that meeting and has been pro-actively pursued over the period since. Councillor Michael Gallagher (Meath County Council), Councillor Paddy McDonald (Cavan County Council), Councillor Noel Keelan (Monaghan County Council), Councillor Paul Corrigan (Armagh City and District Council) and James Gildernew (Tyrone) have been the anchor team, with Councillor Crowe reporting directly to party Dáil Leader Caoimhghín Ó Caoláin TD and Newry-Armagh MP and Minister for Regional Development in the Northern Executive Conor Murphy.
As part of their research, after extensive questioning of both Eirgrid and NIE, the Sinn Féin team tried to engage with representatives of the underground cable industry. Contact was made with Europacable, the Association of European Cable Manufacturers.
Europacable has among its aims the promotion of the use of underground cables for electricity transmission and a complete understanding of the technical specifications of underground cables by relevant stakeholders.
A meeting was arranged by the Sinn Féin Anti-Pylon Steering Group with Simon Allen, a strategy advisor to Europacable, who flew over to Ireland from his Surrey base for the February meeting in Armagh City.
In his briefing to the Sinn Féin councillors, Allen outlined the factual position applying to other European projects where 'undergrounding' has been employed in response to community, environmental and heritage area concerns. Projects in Germany, Austria and Italy and the ongoing consideration of the Beauly-Denny 400kv line in Scotland were all discussed.
When the detail of the meeting was reported to the wider Sinn Féin elected team, it was proposed and agreed that the Europacable expert be invited back to meet and address key activists in the community groups across all five counties campaigning for the undergrounding of their cables by both Eirgrid and Northern Ireland Electricity at the end of this week.
Monaghan County Councillors Jackie Crowe and Noel Keelan, meantime, have been pursuing a further line of enquiry through the offices of the Sinn Féin members of the European Parliament, Bairbre de Brún and Mary Lou McDonald.
Following a meeting with Councillors Crowe and Keelan, Bairbre de Brún has submitted an oral question to the European Commissioner seeking advice of any plans to bring forward regulations on the undergrounding of transmission cables and what guidelines, if any, exist on best practice regarding the installation of high-voltage wires in residential areas.