21 February 2008 Edition
Grove Turkeys redundancies raised with Minister Gildernew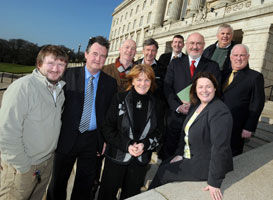 A DELEGATION of turkey growers, supported by broiler and pig producers and led by Monaghan IFA Executive Chairperson Kathleen Ward, accompanied Sinn Féin TD Caoimhghín Ó Caoláin and Monaghan County Councillor Pat Treanor to meet with Northern Executive Minister for Agriculture and Rural Development Michelle Gildernew MP MLA in Stormont on Monday. The backdrop to the meeting was the recently-announced decision of Grove Turkeys (Smithboro) to let go 130 of their 200 workforce. This decision directly affects some 85 turkey growers on both sides of the border.
The common demand of all three sectors was for compulsory labelling, strictly enforced, of all poultry and meat products both domestically-produced and imported. Serious concern was expressed at the apparent sieve-like nature of ports throughout the island of Ireland and at the level of imports from a variety of global locations into the Irish processing systems and into practically the full gambit of wholesale and retail outlets across all 32 counties.
Each of the delegation members appealed to Gildernew to press the need for a joint approach by both Belfast and Dublin to close every import loophole and to ensure strict adherence by all in the meat processing industry to the highest standards of animal welfare and health and food safety.
Sinn Féin Councillor Pat Treanor pressed the Minister on 400 people directly affected by the Grove Turkeys announcement, citing directly-employed workers, growers, catchers and contract workers, to give the delegation an assurance that she would raise the issues 26 County Agriculture Minister Mary Coughlan.
Caoimhghín Ó Caoláin outlined what he described as "the unacceptable practices" that appear to be "now built into the poultry and meat processing industry in this country". He pledged to highlight these in the course of a future Dáil debate.
Michelle Gildernew warmly welcomed the delegation and acknowledged that "today's meeting has provided me with an opportunity to better understand the problems faced by farmers who were supplying Grove Turkeys and of identifying ways in which my Department can be of assistance".
Gildernew, who is the MP for Fermanagh/South Tyrone, undertook to address with Mary Coughlan the measures urged to combat illegal importations and the import of poultry and meat products of uncertain origin.