21 February 2008 Edition
Packed Dublin meeting discusses Lisbon Treaty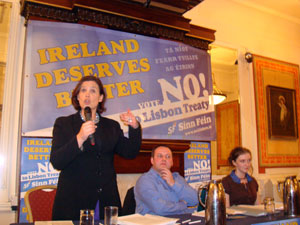 Sinn Féin hosted a packed public meeting on the Lisbon Treaty in Wynn's Hotel in Dublin on Friday 15, February. The meeting addressed by Dublin MEP Mary Lou McDonald and director of the party's referendum campaign Pádraig Mac Lochlainn saw representatives of various political parties and members of the public engage in discussion on the Trearty.
At the meeting Mary Lou McDonald said:
"My message to the people of Dublin is simple. Ireland's place in the EU is secure. You can support the EU and still be against this Treaty. What the people will have to decide in the upcoming referendum is whether the Lisbon Treaty is a bad deal for Ireland.
"The Lisbon Treaty involves a substantial loss of power for Ireland. It gives 105 additional powers to the EU on issues such as trade and economic policy, international relations and security. And in more than 60 of these areas we will lose our right to stop laws not in our national interest. It cuts our voting strength on the Council of Ministers by more than half and ends our automatic right to a Commissioner. It creates an EU Minister for Foreign Affairs and allows the EU to operate on the international stage like a state. It imposes competition on some of the poorest countries in the world.
"During the week I called on the government to widely distribute the Lisbon Treaty. Their response was that it is too complicated for ordinary people, too costly and totally unnecessary.
"They were just as dismissive during the discussions leading up to the Lisbon Treaty. They made no attempt to change the Treaty to address key concerns of the people of Ireland such as the loss of a Commissioner, neutrality, Irish taxpayers money going to support nuclear power and military spending across the EU and the opening up of essential public services to competition. They made no attempt to speak out on behalf of the poorest nations in the world.
"Ireland deserves better than this Treaty. Government negotiators should have delivered a better deal for Ireland. Rejecting this Treaty will send them back to the drawing board and allow a better deal to be secured for Ireland."