21 February 2008 Edition
Call for full inquiry into Stoneyford loyalist intimidation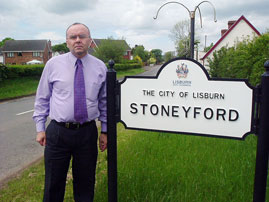 A FULL INQUIRY into PSNI handling of a loyalist campaign of intimidation in Stoneyford has been called for after the PSNI confirmed that disciplinary proceedings have been recommended into police handling of the issue.
The confirmation came this week in a letter to Sinn Féin MLA Paul Butler who said:
"Over the last number of years five Catholic families living in Stoneyford made complaints to the Ombudsman about the police handling of the sectarian campaign of intimidation against them by a group of local loyalists.
"Over this time the five families were individually targeted and forced out of the village. At different times I took the families to meet the Ombudsman with a request that she investigate the police handling of this campaign.
"I recently received a letter from the new Ombudsman which is a compilation and a summary of the outcome of those investigations. In three of the cases disciplinary recommendations were made about the police officers involved in the investigation into these loyalists and their campaign.
"The Ombudsman's letter does not indicate what happened to these officers. I would like to know were they removed from the Stoneyford area or are they still involved in policing these loyalists?
"The Ombudsman letter is an indictment of the police response. I am calling on the Ombudsman to carry out a full inquiry into police handling of these loyalists.
"It is quite clear to me and many others that the current PSNI policy is a dismal failure and Stoneyford Catholics are every bit as vulnerable today as at anytime over the last ten years."