21 February 2008 Edition
British Army chopper hospitalises teenager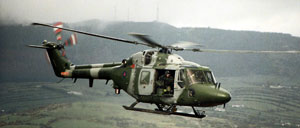 AN UPSURGE in activity by low-flying British Army helicopters the Bellaghy and Portglenone area of South Derry has resulted in a local teenage girl being injured.
Sinn Féin Mid-Ulster MLA Francie Molloy has voiced his concerns after a 15-year-old-girl from the townland of Culbann, near Portglenone, was thrown off her horse as a result of a low-flying helicopter hovering over her family home on Wednesday, 13 February.
Aine McPeake sustained a broken coccyx, injured two vertebrae on her back, one on her neck and suffered a damaged knee as the five-year-old bay pony fell on top of her.
The showjumper, now forced to use crutches, was training the pony 'Highland Paddy' when "the helicopter seemed to appear from nowhere and Paddy went ballistic".
Aine said she tried to hold onto the reins but couldn't manage and hit the ground. The pony fell on top of her.
"It was really frightening. I was in such pain I couldn't stand and my back and leg really hurt," she said.
Aine was taken by ambulance to the A&E at Antrim Hospital and at one stage it was thought she had broken her neck but further X-rays confirmed it was a case of damaged vertebrae and a damaged knee. She cannot turn her neck, her back is in pain and she needs crutches. "I'll be out of the saddle for at least eight weeks and that means I'll miss the major show-jumping event in Cavan. I'm shattered," she said.
Her mother said that low-flying helicopters are "a real problem here" and that sometimes "the whole community" is awakened at night. "We wish they'd stop," she said.
Sinn Féin's Francie Molloy said that Aine's injuries could have been fatal.
"They were due to these reckless British Army training manoeuvres which are taking place on a regular basis along the stretch of the River Bann which runs from Toome to Portglenone. We have been informed that these routine manoeuvres are in preparation for British military adventures in Iraq and Afghanistan."
Local Sinn Féin Councillor Ian Milne said:
"Our offices in Gulladuff have been inundated with complaints from people in the neighbouring parishes of Greenlough, Bellaghy and Lavey in recent weeks about low-flying British Army helicopter activity, which takes place mostly at night, just when young families are trying to settle down for a night's sleep.
"There have been meetings regarding this with British civil representatives as well as complaints lodged. The rights of Irish people are obviously being denied when we see what happened in Culbann. These manoeuvres must end before they result in tragedy."