21 February 2008 Edition
Paisley Jnr resigns under cloud of controversy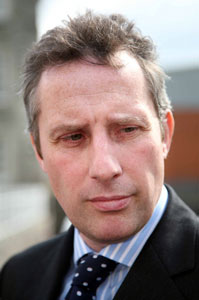 BY PEADAR WHELAN
WITH a grim yet defiant determination, Ian Paisley Jnr strode to the bank of cameras that awaited him outside Stormont Castle on Monday, 18 February.
The DUP politician was about to fall on his pen and resign as a junior minister in the Stormont Executive in face of mounting pressure over his business dealings and his relationship with Seymour Sweeney, the businessman behind plans to develop the Giant's Causeway visitors' centre as a private venture.
So, in a hard-headed statement, Paisley Jnr resigned but refused to accept he had committed any wrong-doing.
"I cannot express strongly enough that I am not going because of some hidden or some revealed wrong-doing on my part. The past ten months have not been without controversy.
"Personal criticism, unfounded allegations, innuendo and attacks on me personally – followed by Ombudsman's reports that have cleared me  – this relentless period of criticism by those who have decided on this path has been unrelenting."
Yet the credibility gap between Paisley Jnr's assertions of innocence and the ever-growing body of evidence that his business affairs had the whiff of unreliability about them was widening.
Indeed, even within the DUP itself there was growing unease about Ian Paisley Jnr's growing reputation as a banana skin. Some members of his own party pointed the finger at him over the DUP's failure to land the victory they expected in last week's Dromore by-election
That by-election – for the seat vacated by the resignation of former Ulster rugby star Tyrone Howe who won it for the Ulster Unionists – saw the UUP hold the seat. Despite topping the poll with first preferences, the DUP lost out as transfers from ex-DUP MEP Jim Allister's Traditional Unionist Voice (TUV) party swung the result in favour of UUP candidate Carole Black.
It didn't help the DUP cause when voters on the doorsteps cited Ian Paisley Jnr's financial dealings as a reason for not supporting the party.
Nor was it helpful for the former junior minister that the gloating and gushing from the Jim Allister corner came amid the din of a further financial calamity, which again had Seymour Sweeney's name attached to it.
A leaked Assembly document, which came to light last weekend, revealed that the Paisleys – father and son – are paying £62,000 rent for their constituency office in Ballymena.
This money is being paid from public funds and is three times more than the next highest rent paid by an Assembly member – Nigel Dodds pays £20,000 for two offices in North Belfast.
An Assembly source expressed surprise at the enormous difference in rent expenditure between the Paisleys and other MLAs, saying: "It is such a large amount in comparison to everyone else that it, at the very least, raises questions about value for money to the public purse."
According to Ian Paisley Jnr, Seymour Sweeney was a director of a company called Sarcon 250 and that the property developer gave him advice on the purchase of the property at 9-11 Church Street in Ballymena.
Paisley Jnr claimed that Sweeney resigned from Sarcon "before any rent was due... in favour of a new director. It was never intended that he would have any further role or be in receipt of any benefit."
However, Jim Curry, none other than Ian Paisley Jnr's father-in-law, replaced Sweeney as director of Sarcon.
Questions are now being asked as to who eventually stands to benefit from the investment in the property, especially as £100,000 has already been spent on refurbishment.
Paisley Jnr and his relationship with Seymour Sweeney first emerged in September last year when it came to light that the North Antrim Assembly member backed the property developer's proposals for a privately-owned visitors' centre at the Giant's Causeway.
Sweeney, a DUP member, was also one of a group of businessmen on whose behalf Paisley Jnr lobbied. He called on Social Development Minister Margaret Ritchie to sell land at Ballee, near Ballymena, at a reduced price to the investors, including Sweeney.
The then Junior minister was accused of a conflict of interest and a complaint was made against him to the Assembly's Standards and Privileges Committee. The complaint failed.
Clearly Paisley junior lost the support of senior DUP figures. They obviously concluded that there was no other action available for Paisley junior other than resignation.
So, as the mushroom cloud of controversy engulfs Ian Óg, the secondary questions arising are whether or not his father will be tainted by the events of the past ten months and does Junior's fall from grace undermine Ian Snr's authority within the DUP as well as among the party's voters.
Apart from the scrutiny surrounding Paisley Jnr's business dealings, the public have looked askance at the fact that he was being paid as an MLA, a junior minister and a Westminster researcher for his father – all at the same time!
In that context the unionist belief that the Paisley family is a family that put public service before personal gain has been holed below the waterline. How seriously damaged the Paisley ship is remains to be seen.
Meanwhile, Sinn Féin's, Mitchel McLaughlin MLA, commenting on the resignation of Paisley Jnr, has said that it is important that there is transparency in public life.
"It is important that there is transparency in public life. This must be defended. Any suggestions that public representatives have acted in a way that falls below what should be expected of them only serves to undermine public confidence in the democratic institutions.
"All MLAs have a responsibility to act in a way that is beyond reproach. Obviously Ian Paisley Jnr has come to the conclusion that recent public revelations around his conduct of his political affairs is not conducive with remaining in his post as a junior minister."