21 February 2008 Edition
Thousands demand their language rights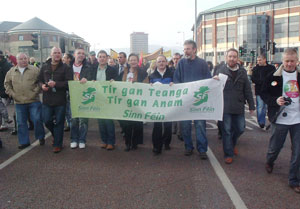 By Peadar Whelan
THERE was a huge turn-out for the latest march demanding an Irish Language Act for the North as thousands of people paraded from West Belfast to the City Centre on Saturday, 16 February.
The colourful parade, which saw people from all across the Six Counties and further afield was hailed as a great success by Janet Muller, Chief Executive of Pobal, the umbrella organisation for Irish-language groups across the North. The good humoured event with the presence of many family groups demonstrated the appeal of the Irish language. The hundreds of children from the many Irish-language schools from throughout the Six Counties was evidence of the vibrancy of the language.
As well as demanding that DUP Culture Minister Edwin Poots introduce an Irish Language Act, the marchers also called for support for the Irish Language Broadcast Fund and aid for the threatened Lá Nua Irish language newspaper.
Speaking to An Phoblacht, Sinn Féin President Gerry Adams said:
"Today's march was a unique event which will encourage support for the Irish language and for an Irish Language Act, as well as promote our shared cultural heritage in Belfast.  It will bring together Irish language activists and ethnic minority groups."
Adams said that while significant progress has been made in recent years in securing recognition and additional resources for the Irish language, there are still major hurdles to overcome.
"But we must never lose sight of the fact that this issue is about rights – the right of Irish-language speakers to have the same rights as all other citizens, including the right to use their native language in all of their business and social activities."
Meanwhile, MEP Bairbre de Brún expressed her support for the march:
"The Irish language is growing with more and more young people choosing to speak it.
"The growth of the Irish language, particularly when it comes to Irish-medium education, the spoken language and the growth of communities, is stronger now than at any time since before partition.
"The only way to maintain the growth and development of the Irish language is for it to become embedded in the day-to-day life of our communities.
"It is also important to celebrate the work that has been done so far. Today's celebration is a part of this."