21 February 2008 Edition
Death of Brendan Hughes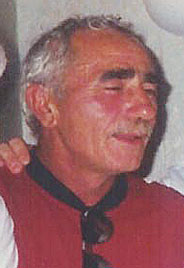 The funeral took place on Tuesday of Belfast republican Brendan Hughes.
A former leading republican activist and hunger striker, Hughes, known widely as 'The Dark', died on Saturday, 16 February after a short illness. He was 59.
Sinn Féin President Gerry Adams was with Brendan Hughes and his family when he died and was among some 2,000 people who attended the funeral to Belfast's Roselawn cemetery.
Brendan Hughes was born into a republican family in Belfast's Lower Falls area. His father was Kevin 'Kevie' Hughes who was himself imprisoned for republican activities in the 1930s-'40s period. Brendan was also a cousin of Charlie Hughes, OC of D Company of the IRA's Belfast Brigade during the Falls Curfew, who was shot and killed in March 1971 by the so called 'Official IRA'.
Brendan Hughes' own republican activism was inspired by the Divis Street riots in 1964. He soon joined the IRA and by 1970 had been forced to go 'on the run' in Belfast.
From 1970 to 1972 Brendan Hughes was involved in the frontline of the armed struggle against the crown forces on the streets of Belfast.
On 19 July 1973 Brendan Hughes was arrested on the Falls Road along with Gerry Adams and Tom Cahill. They were interrogated and severely beaten by members of the crown forces at Springfield Road barracks and later at Castlereagh interrogation centre before being transported to Long Kesh.
On 8 December 'The Dark' escaped from Long Kesh inside a rolled up mattress in the back of a bin lorry, and fled across the border. After ten days he had returned to Belfast after assuming a new identity and was again at the forefront of IRA activity.
H-Blocks
On 10 May 1974 Hughes was arrested and sentenced to 15 years in jail. Three years after his arrest he received an additional five-year sentence following a confrontation with a prison officer. As he was convicted after 1 March 1976 Hughes was transferred from the Long Kesh Cages to the H-Blocks and lost political status. He refused to wear prison uniform and joined the Blanket Protest.
Brendan Hughes was the OC of the IRA prisoners in the H-Blocks during the No Wash protest which began in March 1978. He subsequently led the 1980 hunger strike, going without food for 53 days.
Brendan Hughes was released from jail in 1986.
Sinn Féin President Gerry Adams expressed a deep personal sense of loss this week at the death of Brendan Hughes.
Adams said:
"Brendan was a very good friend and comrade over many years of struggle. As a republican activist in the 70s and later in the cages of Long Kesh and in the H-Blocks he demonstrated enormous courage and integrity.
He spent over 14 years in prison, escaped once and led the 1980 hunger strike. He never fully recovered from the hunger strike.
"Although he disagreed with the direction taken in recent years, he was held in high esteem by all who knew him.
"Brendan will be missed, not least by his family, but also by the wider republican family with whom he dedicated such a large part of his life in furtherance of Irish republican goals.
"He was my friend. Tá sé ar an slí an fhirinne anois.
"Brendan was a sincere and committed republican who was very proud of his working class roots."
The main speaker at Brendan Hughes' funeral, Dominic O'Neill described the Dark's lifelong commitment to republicanism and stressed the deep humanity of the man.
Sinn Féin West Belfast MLA Fra McCann, himself a former H-Block Blanketman and a lifelong friend of Brendan Hughes, spoke of the pain that Brendan had carried from the H-Block hunger strikes and he praised the dignity of the Hughes family in the face of their sad loss.