21 February 2008 Edition
Agency workers' rights : Sinn Féin and Labour Party table joint Dáil motion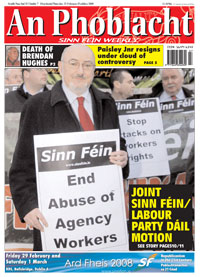 Abuse of agency workers a cancer in the Irish labour market

BY CAOILFHIONN Ní DHONNABHÁIN


THIS WEEK, the Dáil debated a joint Sinn Féin/Labour Party motion on agency workers. The joint motion is a result of a successful negotiation between Sinn Féin and Labour which facilitated Sinn Féin accessing time to debate a Private Members' motion which the party would not otherwise have had access to.
The debate in the Dáil comes on the back of a growing campaign by the trade union movement and Sinn Féin to stop the abuse of agency workers. While many may not realise it, the failure to legislate for the principle of equal treatment for all workers, including agency workers, has implications for the standards of living and conditions of the vast majority of workers.
This issue has come to the fore as evidence mounts that employers are using agency staff to avoid their responsibilities to comply with established terms and conditions. 
All four Sinn Féin TDs made contributions during the debate, which started on Tuesday evening.
The Sinn Féin spokesperson on workers' rights, Arthur Morgan, explained that the purpose of the motion is to stem the rising tide of exploitation that is resulting from the failure to legislate for the principle of equal treatment for agency workers.
"This joint motion, from Sinn Féin and the Labour Party, demands that the abuse of agency workers is ended and that their right to equal treatment with other workers is enshrined in law," Morgan said. He went on point out:
"Not only are agency workers being denied the rights, entitlements such sick pay, holiday pay and overtime and rates of pay equivalent to permanent staff, increasing numbers of new jobs are temporary and are being filled by agency workers. The employment of agency workers is resulting in the displacement of directly employed workers.
"This is not just an issue that affects migrant workers – existing Irish workers are being displaced, are forced to work as agency workers, and are seeing their wages being driven down and their existing conditions undermined as a result of the failure to legislate for the principle of equal treatment. This practice is also driving down general wage levels in a range of sectors."
During his contribution Morgan gave examples of how the failure to introduce legislation to provide for the principle of equal treatment for agency workers means that these workers are being exploited by employers to drive down wages and to sidestep duties they would have to honour to directly employed workers. 
Every member of the Dáil, Morgan argued, would be familiar with cases of exploitation of agency workers and undercutting and displacement of existing workers as a result of the employment of agency workers.
"While the Government fails to acknowledge the extent of the problems that have developed as a result of their inaction, I have no doubt that their own backbenchers will be able to tell them of many cases from constituencies across the state.
"If this issue is not dealt with, we risk returning to casualisation of labour reminiscent of the 19th or early 20th Century."
Morgan described the absence of adequate legislation to protect agency workers as "a cancer in the Irish labour market" and  said that if the abuse of agency workers is not tackled now exploitation will spread "aggressively and invasively through all workplaces and all sectors".  He pointed out that, already, its effects are evident in construction, hotels and services, retail, logistics, red meat and mushrooms. Further delays in introducing the legislation demanded in the motion, Morgan argued, will be detrimental for individual workers  – both indigenous and migrant  – and for employment conditions as well as being grossly unfair to good employers who are put at such a competitive disadvantage that they are forced to compete in a "race to the bottom". 
Speaking on Wednesday evening, Aengus Ó Snodaigh slammed the Government for its role in blocking an EU directive on temporary agency workers. He also outlined in more detail the nature of the kind of legislation Sinn Féin is looking for on this issue.  Ó Snodaigh said that legislation to end the abuse of agency workers needs to include the following aspects:–
•    Gives agency workers pay parity.
•    Allows for the same entitlements and conditions as their directly employed co-workers, such as sick days, holiday leave, protection from dismissal and company benefits.
•    Allows them trade union membership.
•    Prohibits the use of agency workers in certain situations (i.e. to replace striking workers).
•    Makes the agency and the user company jointly responsible and liable so that workers can ensure enforcement of their rights.
•    Bars agencies from charging the employee for any aspect of the recruitment or placement process and halts unfair, discriminating 'profiling' practices.
•    Creates an offence for employers to use unlicensed agencies.
•    Requires an agency operating in Ireland, wherever they are based, to be compliant with the law.
•    Increases sanctions on employers who ignore workers' rights and the law improves redress for the workers concerned.
•    Restricts the amount of time employers can fill a post with an agency worker before that worker becomes permanent.
 
North Kerry TD Martin Ferris, who also participated in the debate on Wednesday, highlighted particular incidences of exploitation involving agency workers which he has encountered in his own constituency.
Martin Ferris spoke of an incident where he was approached a year ago by workers in Tralee who became aware that not only had the company they worked for advertised for new staff exclusively through an agency in Poland but that the workers who were subsequently employed were earning less than the local workforce and, of course, did not join the trade union that the local workers were members of.

"When I pursued this through questions to the Employment Minister I was informed that the employer in question had not in fact broken any law as he was entitled to advertise anywhere within the EU and was under no obligation to advertise the jobs locally. That this could be done alongside the fact that the existing workforce was also unaware of the conditions under which the Polish workers were employed illustrates the abuse to which the recruitment of staff through agencies can lead to."
Ferris also highlighted the failure in terms of enforcement of existing legislation saying "figures recently released showed that in 2006 and 2007, 296 cases of employers paying below the minimum wage were detected. But only one prosecution was taken. Hardly a major deterrent for unscrupulous employers willing to access cheap labour through agencies."
Speaking as the debate closed on Wednesday evening, Sinn Féin Dáil leader Caoimhghín Ó Caoláin slammed the Government response to the motion, saying that they appeared to have their heads in the sand regarding the extent of the crisis arising in the labour market by the failure to stop the abuse of agency workers.  During the debate Fianna Fail Employment Minister Mícheál Martin and Labour Affairs Minister BillY Kelleher attempted to defend the Government's record.  Trade union representatives present in the public gallery during the debate were visibly angry at the Government's response.
Arthur Morgan told An Phoblacht that Sinn Féin will be stepping up its campaign on the issue of agency workers in the weeks ahead.


Lack of protection for agency workers — How does it affect you?
THE failure of the Government to legislate for the equal treatment of agency workers has implications for all workers – including those who are currently unaware of the issue. 
By employing workers on agency contracts, employers can legally pay less than the set rates and not pay overtime rates or shift premiums, holiday pay or pensions.
As a consequence of the absence of adequate protection of agency workers:–

•    Those employed through agencies are open to exploitation, including lower rates of pay and denial of established entitlements.
•    Wages are under a downward pressure as permanent employees experience undercutting of their terms and conditions of employment. 
•    Increasingly, agency work is all that is available to people, particularly in sectors such as construction and hotels and services.
•    Good employers who are being put under severe competitive disadvantage are being pushed into competing in a "race to the bottom".

Trade unions rally in support of Dáil motion
A SIGNIFICANT group of representatives from a range of trade unions – including SIPTU, Unite and IMPACT – gathered outside the gates of Leinster House to urge all TDs in the Dáil to support the Sinn Féin/Labour Party motion on agency workers.  Sinn Féin activists were also present at the demonstration in large numbers.
Union leaders Jack O'Connor (General President of SIPTU) and Jimmy Kelly (Regional Secretary of Unite) joined the demonstration, as did Arthur Morgan and Labour Party TD Willie Penrose. Other union leaders included Peter McLoone (General Secretary of IMPACT, the largest public sector union in the 26 Counties). SIPTU's Campaigns Organiser, Anne Speed, and senior officials Mick Halpenny and Patricia King were also in attendance.
The unions are running out of patience with the Government for failing to address the agency workers issue. Last week, SIPTU General President Jack O'Connor warned that there would be no further social partnership agreements unless the abuse of agency workers is ended and their rights to equal treatment with other workers enshrined in law.
"We have a deplorable system of rented labour at present in which vulnerable people have effectively no employment rights in practical terms. The nearest parallel to the present phenomenon, which affects tens of thousands of workers in Ireland, is slavery.
"Whilst acknowledging the existence of quite legitimate employment agencies functioning to facilitate the ebb and flow of business in various sectors of the economy, the rogue agencies are ratcheting down the security and quality of employment rights for everyone who goes to work in Ireland."
O'Connor issued a statement on Tuesday welcoming the joint Sinn Féin/Labour Party Dáil initiative. 
Fianna Fáil council chair calls for lower wages for migrant workers
COMMENTS by Fianna Fáil Councillor and Chair of Louth County Council Jimmy Mulroy that migrant workers should not receive the same wage as Irish workers also focused public attention on the issue of  worker exploitation this week. Sinn Féin Councillor Jim Loughran had tabled motion on the abuse suffered by agency workers at the hands of employers when the Fianna Fáil councillor made his comments. He also argued that wages of migrant workers should reflect the "lower cost of living in their home countries". He said that Irish people "need €12.50 an hour; people from Lithuania are doing very well on €8.50 an hour".
In reply to these comments, Sinn Féin's Councillor Kevin Meenan said that migrant workers "do not fly home at night – if they live and work here they should get the same money as Irish workers".
The Fianna Fáil councillor, who owns an electrical contracting business based in Drogheda, replied that people from eastern Europe, where there is a lower cost of living, are often "happy" on less money.
The motion tabled called for all workers to be treated equally but Councillor Mulroy said that if the motion was adopted "migrant workers would not get a job in Ireland" as they would be less "employable".
Councillor Mulroy's comments were cited during the Dáil debate on agency workers by Sinn Féin TD Martin Ferris:
"Further proof, if needed, was provided by a comment made last night at a meeting of Louth County Council by its Fianna Fáil chair who claimed that non-Irish workers should be paid less for doing the same job. He was responding to a Sinn Féin motion on the same issue we are discussing here today. And this man is an employer! Perhaps he is like Homer Simpson, giving the game away when anyone else might have had the wit to bite his tongue because it is indeed clear that not only was he voicing the sentiments of many employers but that many employers are indeed implementing such a policy."