14 February 2008 Edition
IDA must do more for Kerry employment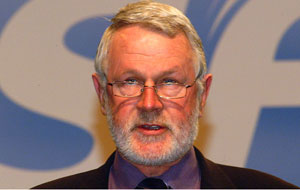 IDA Chief Executive Barry O'Leary has described 45 possible job losses at Tillotson in Tralee as "a major disappointment" and that the IDA "fully recognises" the impact of job losses in Kerry. He made his comments in a letter to North Kerry Sinn Féin TD Martin Ferris after Ferris wrote to him about the situation at the carburettor manufacturing plant.
Martin Ferris welcomed the fact that the IDA recognised the impact of any job losses and that the IDA believes Kerry has many advantages for the promotion of foreign direct investment.
But Martin Ferris said that the people of Kerry have little confidence left in the IDA, given their abysmal record in attracting industry over the last five years.
"I do hope that Barry O'Leary, who is new in his position as CEO of the IDA, will do everything he can to ensure that Kerry is not treated as a peripheral county as it has been over recent years."
Ferris called on the IDA to undertake a vigorous campaign to promote County Kerry over the coming years.