14 February 2008 Edition
McElduff aires radio concerns to RTÉ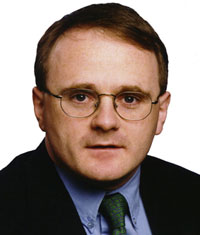 A DECISON by RTÉ to scrap its medium-wave transmission will affect thousands of listeners in the North and news of the move has provoked outrage with 26-County Foreign Affairs Minister Dermot Ahern being the latest to be forced to intervene in the controversy.
Despite growing pressure on the broadcaster to abandon the plan, RTÉ has insisted the service will be dropped next month and that it intends to compensate by improving FM reception in the North, which it admits is patchy.
Thousands of RTÉ Radio 1 listeners in the Six Counties fear they will be left with no service or an inadequate service from 24 March.
Sinn Féin MLA Barry McElduff, who is chair of the Northern Assembly's Culture Arts and Leisure Committee said this week that he has been contacted by many constituents on the matter and he believes that there is a "stark level of confusion" over the issue.
"RTÉ 1 as a media outlet is hugely important, both culturally and socially. RTÉ is Ireland's national broadcasting station, not just for part of Ireland but for the whole of Ireland.
"RTÉ 1 is listened to by thousands of people in the Six Counties who tune into Morning Ireland on a daily basis and, as a public service provider, RTÉ must remain available on an all-Ireland basis. I am seeking an urgent meeting with Cathal Goan, the Director-General of RTÉ, on this issue."
Meanwhile, Foreign Affairs Minister Dermot Ahern has written to RTÉ to express his concerns.
When officials from Ahern's department met Cathal Goan last week and broached the subject 'informally' they were told the broadcaster had made a "technical decision" and received assurances that the station would still be available on long wave 252.
RTÉ has admitted that its FM radio coverage in the Six Counties is patchy, particularly around Belfast, where 600,000 people experience poor reception.
According to RTÉ, a review is underway and the state-funded body plans to improve its Radio 1 FM reception before dropping medium wave.
Barry McElduff said that the decision to end medium wave transmissions must be complemented by improved coverage of FM output and there must be no decrease of output.
"I understand RTÉ is carrying out a review on this matter and I hope for a satisfactory outcome," the West Tyrone MLA said, adding that RTÉ must make the new directives relating to any decision clear and widely known to dispel the confusion.