14 February 2008 Edition
Government policy failing agency workers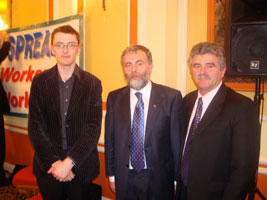 SINN FÉIN TD and Labour Affairs spokesperson Arthur Morgan met with agency workers in Waterford on Monday, 11 February, ahead of a SIPTU public meeting, attended by over 200 people, calling for an end to the exploitation in the agency sector.
In recent months, Sinn Féin has campaigned in the Dáil, Assembly and in Europe for the equal rights of agency workers who currently have little or no job security, access to sick pay, pension entitlements or other non-pay benefits.
The 26 Counties is one of the few EU member states that has failed to legislate for the equal treatment of agency workers. Sinn Féin has said that the Government's rationale that giving such rights will harm the economy's competitiveness is absurd as every state in Europe that ranks ahead of Ireland in competitive terms has such legislation in place. The Government also continues to block attempts by the EU to progress an EU agency workers' directive.
Sinn Féin Waterford City Councillor David Cullinane pointed out that he had tabled a motion calling on the city council to ensure that any agency workers used on work for the council had equality of terms and conditions. SIPTU officials said that many councils, including Waterford City Council, were not fully compliant with this policy.
SIPTU President Jack O'Connor praised Sinn Féin for its courage in speaking out in support of the campaign. He said it is not easy in the current economic climate to be strong on this issue. He pointed out that if workers continue to be exploited by some agencies it will have a depressive effect on wages with knock-on effects on local economies as lower wages mean lower spending power.
Arthur Morgan said:
"Agency workers must be given equal pay and conditions from commencement of employment. We will accept nothing less."