14 February 2008 Edition
Adams calls on Ahern to name date for referendum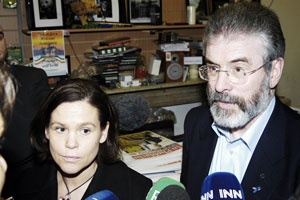 SINN FÉIN members from across Ireland met in Dublin at the weekend to finalise plans for the party's campaign in opposition to the Lisbon Treaty. Sinn Féin President Gerry Adams welcomed Bertie Ahern's comments that the referendum would take place in the summer but he called on him to name the date so that the real debate can begin.
Gerry Adams said:
"Sinn Féin will be mounting a vigorous campaign against the Lisbon Treaty.  We believe that it is a bad deal for Ireland and would have serious consequences for generations to come.  Ireland deserves better.
"Over the coming weeks we will be delivering more than 500,000 newsletters door to door and holding a series of regional meetings. This is part of our contribution to a much-needed debate on the implications of this treaty for Ireland.
"To date, the Government has avoided any real debate.  Instead, ministers are sent out every few days to say that they will set the date soon. And even without a debate, Europe Minister Dick Roche arrogantly stated that the referendum would go through without a hitch.
"The Lisbon Treaty will have serious consequences. It will see the EU gain an additional 105 powers on issues such as international relations, security, trade and economic policy. And in more than 60 of these areas we will lose our right to stop laws not in the Irish national interest.
"It cuts our voting strength on the Council of Ministers by half and ends our automatic right to a Commissioner, leaving us with no voice on the European Commission for five out of every fifteen years. All of this will significantly reduce Ireland's influence at the EU in the coming years. Such a significant concentration of power and strengthening of the larger states is a significant undermining of democracy.
"Supporters of the Lisbon Treaty tell us it will not affect our neutrality. This is not true. Neutrality has been systematically eroded through the Irish financial contributions to the European Defence Agency, involvement in the military alliance known as the Partnership for Peace, participation the EU Battle Groups and the use of Shannon Airport by US troops en route to Iraq.
"The Lisbon Treaty takes us further down this road. It contains a commitment to a common defence, three clauses increasing our military spending, and a commitment to NATO. The treaty does not even mention the word neutrality.
"The Lisbon Treaty is a bad deal for Ireland. If it is rejected we can return to the negotiating table and secure a better deal the next time round. It will create the opportunity for greater democracy in the EU, for a specific article protecting neutrality, for new provisions protecting public services, to opt-outs from EURATOM, the European Defence Agency and other contributions to EU military expenditure.
"Ireland's place in Europe is secure. We can support Europe and be against the Lisbon Treaty."