14 February 2008 Edition
Public confidence exists now for transfer of policing and justice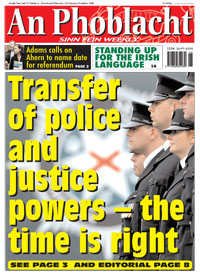 BY GERRY ADAMS MP
THE Good Friday Agreement will be 10 years old in April. While there remains much work to be done to ensure its full implementation, considerable progress has been made.
2007 especially witnessed an unparalleled transformation in the political situation. In March, Sinn Féin and the DUP agreed a deal which allowed for the restoration in May of the political institutions, including the Assembly, the Executive and the all-Ireland Ministerial Council and North/South bodies.
This has produced enormous international goodwill, particularly in the United States and Europe. A window of opportunity has opened again and the potential rekindled for a short time, to harness that goodwill to attract significant new inward investment. The major US economic conference scheduled for May is one effective example of this.
In this new and more positive atmosphere, local politicians and parties are now grappling with those major social and economic issues of concern that were neglected or mismanaged through decades of British direct rule.
We again have an opportunity to transform the daily lives of people for the better, to generate new jobs, to provide our young people with the necessary skills for the challenges of the 21st Century, and to build a safer, healthier, better-educated, more cohesive society than ever before.
To do this, political stability and progress are essential. Political instability and uncertainty can only prevent the full realisation of the potential for social and economic advancement.
Getting to this point has been a significant achievement, but more progress is required – and none more so than on the issue of transfer of power on policing and justice.
For its part, the DUP argues that policing and justice powers can only be devolved 'when public confidence allows'. In my view, that public confidence exists now.
The time is now right, the public confidence exists – especially on the back of the agreed Programme for Government, Budget and Investment package – to move ahead with the transfer of powers on policing and justice issues.
I believe that the vast majority of citizens support the progress that has been made, are pleased that local accountable politicians are now taking decisions, and want policing and justice powers – a vital area of work which affects their daily lives – also under the control of local politicians.
Any refusal by the DUP to achieve this is, at best, unhelpful. At worst, it risks reintroducing an element of uncertainty into the political situation and eroding the widespread support that now exists for the political institutions.
Devolution of policing and justice powers would be an act of confidence in the political institutions and would reinforce the widespread international view that the North has really moved into a new era of peace and politics. It would copper-fasten the real sense of stability and progress made in the last year
Bringing policing and justice functions under the control and scrutiny of the Assembly would allow local politicians to make laws and affect justice and policing policy on all aspects of crime.
There is a shared concern around issues like call-out response times by the PSNI, anti-social behaviour, death riders, sex crimes, domestic violence, and repeat offenders on bail.
Transferring power to the Executive and under the scrutiny of the Assembly would place accountability for delivering a safer society into the hands of locally-elected representatives. It makes sense.
In addition, transferring powers on policing and justice could potentially release efficiency savings that could be targeted at improving frontline services, for example, in health, education, and social housing.
Unionist politicians should recognise the potential financial benefits that would accrue from taking as many powers away from direct rule ministers as soon as possible.
Unionist politicians have also been very vocal in their criticism of the inept way British direct rule politicians ran this place for so long. Policing and justice is probably the best example of this incompetence.
I accept that this is an important issue for many unionists.
Ironically, almost 36 years ago, in March 1972, it was the removal of 'law and order' powers from the unionist government that led to its collapse.
But today the political situation has been transformed. There is now a stable, widely-supported, power-sharing government that is more than capable of assuming responsibility for these matters.
The opportunity is there for unionism, working with its nationalist and republican partners in government, to take back the 'law and order' powers which the Heath government took away nearly 36 years ago.
This would give local people the ability to influence and shape the kind of policing and justice system which they need to tackle the criminal and anti-social problems confronting them.
The transfer of policing and justice powers would give people a real sense of ownership of these important functions.
I believe that the conditions for the transfer of powers on policing and justice are right now.
I would much prefer that we make progress on this issue through agreement with the DUP.
What is needed is political will and political leadership by the DUP.