14 February 2008 Edition
Progress made on bridge linking Down and Louth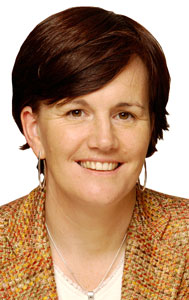 SOUTH DOWN Assembly Member Caitríona Ruane welcomed progress made on the Narrow Water Link Bridge at last week's meeting of the North-South Ministerial Council in Dundalk.
Sinn Féin has been to the forefront in lobbying for a bridge at Narrow Water to link counties Down and Louth. Ruane said that the flagship project has "wonderful potential" and would provide a major boost for the local economy.
Meanwhile fellow Sinn Féin South Down MLA Willie Clarke has criticised attempts by the North's Social Development Minister, Margaret Ritchie of the SDLP, to claim credit for the feasibility study into bridge.
"Margaret Ritchie is claiming victories which are simply just not hers. This smacks of trying to grab headlines when what is needed is a long term strategic commitment to delivering the bridge at Narrow Water and the issue of the link road. This is a disappointing response to what is an important infrastructure issue."
Caitríona Ruane, who is also the North's Education Minister, said that the focus for the Six-County Executive and the Irish Government must be to develop North/South links.
Pointing out that funding also needs to be secured for a southern relief road in Newry, which is required to ensure the continuing expansion of the city, she said both projects are entirely compatible and, if realised, would facilitate economic growth throughout the entire border region.
"The Narrow Water Bridge and the southern relief road would greatly improve the local road infrastructure and would help alleviate some of the traffic congestion in Newry City by freeing up the flow of freight traffic to towns and villages on the Eastern seaboard," Ruane said.
"It would also allow improve accessibility to Warrenpoint Docks and the many local people who work in Dundalk, Drogheda and Dublin would greatly benefit from having a more direct route available to them. The timeframe for both the link bridge and the relief road may vary but both signature projects must be a priority.
"Sinn Féin has been long-term advocates of cross-border projects and we are using our position as an all-Ireland party to spearhead both these initiatives. I welcome, therefore, the willingness of the Irish Government to provide funding for a bridge. An integrated, all-Ireland approach to tourism, the economy and spatial development is the only viable way forward and the many economic benefits for the region, should a link bridge at Narrow Water be built, makes a compelling argument for capital funding to be made available to pay for this project."