7 February 2008 Edition
Matt Treacy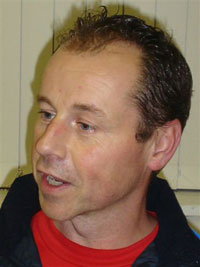 Close encounters of the Antrim kind
ANTRIM made hurling history last Sunday by becoming the first non-Leinster side to win the Walsh Cup. They beat Offaly in a game that was played in atrocious conditions and in which Antrim overcame a half-time deficit with the help of the strong wind.
For a team that seemed almost in despair less than two years ago, Antrim under Sambo McNaughton and Dominic McKinley have regrouped with a young squad and will be hoping to mount a strong challenge in Division One and the championship this year.
Next Sunday they meet Dublin in what will probably be the crucial game of the year for both counties, with a victory for either going a long way to securing vital safety in the top flight and holding out hopes of perhaps qualifying for the play-offs in April.
Dublin fielded something akin to their strongest available team on Sunday in beating Clare in a challenge match. They have been closely matched with Antrim over recent years and next weekend is sure to see another close encounter.


THE result might be of less importance, in fact, if the players' strike in Cork continues. The hurlers are due to play Kilkenny on Sunday but that is unlikely to go ahead. If Cork don't field then Kilkenny get the points and if they don't turn up against Waterford they will be thrown out, which would mean them being relegated to Division Two and lessening the pressure on Dublin and Antrim.
The same ultimatum has been presented to the footballers. If they don't play Dublin on 16 February then they forfeit the points, and if they miss another game then they will be disqualified. As it stands, it appears almost certain that the hurlers will not play Kilkenny and the likelihood of the dispute being resolved prior to the Dublin game is slim.
The enormity of what is taking place, and the implications that the players' strike has for Cork's participation in the championship, led to a march in the city on Monday night. It was apparently organised by supporter Thomas 'Bomber' Roche, who expressed his backing for the players but it appears that supporters of both sides – up to 2,000 according to some accounts – took part. The unifying theme was the pressing need to resolve the dispute and have the red jerseys back on the field of play as soon as possible.
The extent of the disunity within the county was indicated by a public statement from N Piarsiagh, Seán Óg Ó hAailpín's club, distancing themselves from the comments which the hurler had made in interviews and the demand that County Secretary Frank Murphy resign.
There is little chance that Murphy will resign and the players appeared to be giving no indication that they will moderate their demands. That makes it far more difficult to resolve than say a strike over wages where the difference can be split. Workers demand 10% increase, employers want none. LRC recommends 5% plus changes to work practises. Problem solved.
There was some chink of light on Tuesday evening when Kieran Mulvey returned to Cork with a new set of proposals which the County Board announced, following early morning discussions, were acceptable to them. The players' reaction is not known as we go to print.


IN the absence of Cork, the football leagues began with no real shocks with perhaps the exception of a robust Kieran McGeeney-managed Kildare taking a point away from Omagh.
Donegal beat Kerry with a last-gasp goal in Ballybofey but that wasn't much of a shock considering Donegal are league winners and Kerry will hardly be booking group sessions with a psychotherapist as a consequence.
Westmeath did mount a far more diligent challenge to Dublin than in previous years before going down narrowly but Dublin really should have had the game finished within 20 minutes. It was a scrappy affair played in heavy conditions and made none the more pleasant on the eye by Westmeath's ER unit taking an inordinate amount of time to deal with any player who acquired an injury, none of which seemed particularly serious. Time-wasting by a team chasing a lead would indicate that not getting a hiding rather than winning is the main priority!
One item of curiosity was the return of the Kilkenny senior footballers to the league following an absence of nine years. They played Tipperary in Nowlan Park but they were comprehensively beaten by 22 points despite the Tipperary forwards having apparently taken points on some occasions where goals might have been on.
Carlow also continued their good recent run when beating Clare in Miltown Malbay, thus confirming the shrewdness of those punters who backed them at 14/1 and longer to win Division Four. They are now 7/1.
Micko's Garden County dream appears to have come to nought. They were comprehensively beaten in Aughrim by Antrim and even at this stage it makes promotion a remote possibility, given some of the matches they have later on. They can expect to beat Kilkenny and London but after that it is hard to see them picking up too many points.
O'Dwyer attracted more coverage when it was announced that former Kerry under-age star Dan Doona – who has lately been playing in New York – is to join Wicklow. O'Dwyer did engineer successful transfers from other counties when he was in charge of Kildare and Laois but one suspects that even his most high-profile acquisition, Tomas Walsh of Carlow, must somewhere in his heart of hearts be questioning his decision in the light of the recent relative fortunes of the two counties.