7 February 2008 Edition
Bloody Sunday : The Year of the Families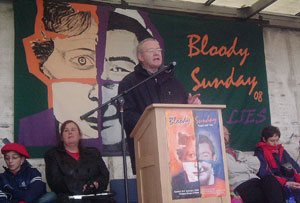 BY PEADAR WHELAN

AS the families of the Bloody Sunday dead and the wounded marked the 36th anniversary of the 1972 massacre in Derry on Sunday, 3 February, thousands of citizens from across Ireland and beyond marched in solidarity with them.
For the families, and indeed the people of Derry, this is the 36th year of a struggle for justice and truth that has seen many highs and lows.
The British Establishment vilified the Bloody Sunday dead when its legal system, in the form of Lord Widgery in the aftermath of the massacre, exonerated the Parachute Regiment killers of innocent, peaceful protesters.
Now, in 2008, on the cusp of the release of the Saville Inquiry, the British Establishment has the chance to right past wrongs.
The question is, will the British take that chance?
As the thousands of marchers followed the original Bloody Sunday route from Creggan to Free Derry Corner in the Bogside, that same question was on the lips of many: 'Will the British Government set the record straight?'
We will know soon enough was the sceptical response from people who know only too well that the British Government are past masters of deception and are well-practised in deceit.
Nonetheless, the opportunity is there that Lord Saville's inquiry that began hearing evidence almost ten years ago will issue findings that will satisfy the families of the dead and wounded and bring closure to a people and a city left traumatised by the slaughter.

John Kelly, whose brother Michael was among the dead, described this year as "The Year of the Familes."
Reading a statement from the families at the Bloody Sunday memorial in Rossville Street during a memorial service before the main march, Kelly expressed the hope that the British Government would do what the families wanted.
Later that day, as the main rally took place at Free Derry Corner, Joe McKinney, whose brother William was shot dead, stressed that the families want Lord Saville to hand his report to the families at the same time as the British Government gets it. The British Government should not have time to digest the findings before the families have seen it.
"When the Bloody Sunday Inquiry completes its report it will be presented to Shaun Woodward, the British Secretary of State for the North. This may become one more part of our long struggle. Shaun Woodward is a representative of the British Government and we ask why the British Government should get this report before we do?"
Joe McKinney went on to say that if the British Government gets the report then the PR machine of the British Army's Parachute Regiment – "which represents the soldiers and officers involved in murder here on Bloody Sunday" – will also have it before the families.
"Why should they get this report before us and get time to prepare their spin and lies for their tame journalists while we may have only a few hours to see the report before we have to respond?"
In his speech, the North's Deputy First Minister, Sinn Féin's Martin McGuinness, endorsed the views of the families and echoed John Kelly's remarks that this "is a big year for the families".
"In the course of the inquiry, the people of Derry were put to the test. Thousands of people went through what was a daily interrogation and did so with truth and honesty. Now the British Government is being tested. If they are serious about truth and justice the report must be given to the families at the exact time that the British Government gets it."
McGuinness also challenged the media over its reporting on the conflict here, saying that if they are to be honest about their reporting they must describe what happened in Derry on Bloody Sunday as murder.
Responding to suggestions that this year's march may be the last if Saville delivers a verdict which is acceptable to the families, McGuinness said:
"Whatever decision the families arrive at it will be supported by the people of Derry. Where we go from here will be a matter for the families but one thing is sure: any failure by the British Government to clear the names of those murdered will be challenged by the people of this city."