31 January 2008 Edition
Deputy First Minister opens Pearse House, Limavady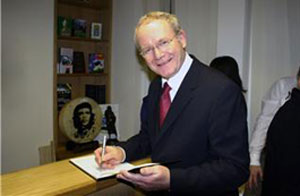 DEPUTY FIRST MINISTER Martin McGuinness MP, MLA officially opened Sinn Féin's new Advice Centre in Limavady on Friday, 25 January. A large number of local republicans and several members of the party's senior ranks were in attendance.
The centre has been named Pearse House in honour of Padraig Pearse, one of Ireland's foremost republicans, who led the Easter Rising in Dublin in 1916.
Martin McGuinness said that his heart swelled with pride to see the strength and commitment of party activists in Limavady "as we break new ground across the island".
East Derry MLA Francie Brolly said the opening marked a historic occasion in the history of Sinn Féin, where the residents of Limavady "can seek direct access to their elected representatives through a local hub. I embrace this new development and will be using the office regularly. I would urge any constituents seeking advice to call in to speak to me or my colleagues."
Leader of the Sinn Féin's local council grouping Councillor Paddy Butcher said:
"This is one of the proudest days of my life to see a Sinn Féin Advice Centre on the Main Street of Limavady. Seven years ago we set out a ten year Strategic Plan to develop the party infrastructure throughout East Derry. We first established an Advice Centre in Dungiven, then Kilrea. The new advice centre in Limavady marks our latest achievement. Next stop Coleraine."
Limavady Deputy Mayor Brenda Chivers has announced an expansion of the party's local Cumann structure, commenting that for several years the Bellarena Ward had been serviced by Cumann Glean na Rua which covered Greysteel, Ballykelly, Glack, Limavady Town, Myroe, Aghanloo, Magilligan and Benone.  Due to the recent upsurge in new membership across the ward, two new cumainn have been established. Magilligan, Aghanloo, Myroe and Glack will be serviced by Cumann Liam Ó Cainin. Cumann Séamas Ó Guidh will service the town of Limavady. Cumann Glean na Rua will service Greysteel and Ballykelly.  All three cumainn will be based in the Limavady Advice Centre.
The centre will initially be open Monday, Wednesday and Friday from 10am to 4pm. Telephone 028 7776 3753 or e-mail
[email protected]