31 January 2008 Edition
SDLP blocks discussion on controversial electro-shock weaponsSDLP blocks discussion on controversial electro-shock weapons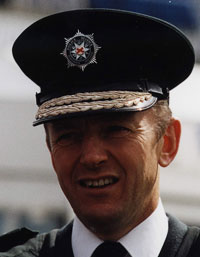 SINN FÉIN COUNCILLOR and DPP member Elisha McLaughlin has criticised SDLP Councillor and Chairperson of the Derry District Policing Partnership (DPP) Shaun Gallagher after her request to raise issues on the deployment of controversial Taser electroshock weapons by the PSNI was blocked at Friday's meeting.
At the January monthly meeting of the DPP under Any Other Business, McLaughlin asked for a discussion about the issue of the deployment of TASERS by the PSNI and a proposal for the local DPP to send letters to both the Policing Board and the PSNI Chief Constable Hugh Orde outlining the many concerns within the community about the use of TASERS.
"Shaun Gallagher blocked my request on the grounds that its wasn't on the agenda and that not all members of the local DPP were present to discuss it. This was despite the fact there were enough members present to reach the quota for a discussion. The DPP is supposed to act as a forum for discussion and consultation on matters affecting the policing of the district", McLaughlin said.
"It's ironic that on the day that the PSNI began to deploy the controversial weapon and that senior members of the SDLP have expressed concerns about the use of TASERS that on a local level in Derry the SDLP felt it was appropriate to put any discussion on the issue off", she added.
Magherafelt rejects TASERs
Meanwhile a meeting of Magherafelt DPP in County Derry on Monday, 28 January agreed on the proposal of Sinn Féin councillor Seán Carr that the DPP write to Hugh Orde and the Policing Board strongly criticising the PSNI Chief Constable's decision to deploy TASER guns.
The DPP meeting heard a presentation from the Children's Law Centre who also strongly rounded on the decision of the Chief Constable.
Sinn Féin DPP member Cllr Seán Mc Peake speaking after the meeting said:
"The Children`s Law Centre representative and DPP members present at the meeting voiced grave concerns on the deployment of these weapons. Many hundreds of deaths have already occurred in the various countries throughout the world where they have been used. The TASER when fired emits a 50,000 volt shock into the victim which can potentially kill.
"Hugh Orde has received a loud and clear message coming from the DPP in Magherafelt that he cannot be allowed to ride roughshod over the wishes of the Policing Board, The Equality Commission and The Human Rights Commission. By introducing TASERS in the manner that he has done without the proper assessments being carried was reckless in the extreme. If Hugh Orde expects others to follow due process and procedures he cannot expect to ignore the same procedures himself."