31 January 2008 Edition
We shall overcome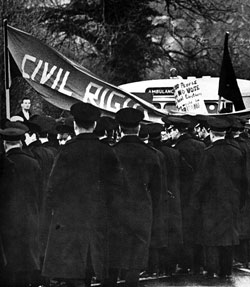 THIS Tuesday, 29 January, marked the formal establishment in 1967 of the NI Civil Rights Association (NICRA). Four decades later, Sinn Féin President Gerry Adams MP MLA, who was one of the small number people present at the founding of the association, sent his best wishes to all of those who participated in or supported the efforts to achieve fundamental civil and human rights in those difficult days.
The Sinn Féin president also announced that Sinn Féin will, "as we did in 1988 mark the 20th anniversary of the Civil Rights struggle", by organising a series of events, including public meetings, marches, and debates to commemorate NICRA's unique and important contribution to the last 40 years.
Adams – along with many others – recalls that momentous day in Ireland's modern history.
On 29 January 1967, in the International Hotel in Belfast, around a hundred people from all across the North came together to establish an organisation to campaign for civil rights.
"It is a landmark date in the contemporary history of the North," Gerry Adams notes. "It was the beginning of a long and difficult struggle for basic civil and human rights, including the right to vote. A struggle which continues today."
Groups like the Campaign for Social Justice had been involved in civil rights issues but the first tentative steps toward creating a civil rights campaign emerged out of the republican Wolfe Tone Society. The strength of NICRA is that it was broad-based. People from across the political spectrum came together to demand basic human and civil rights for nationalists. This included many republicans, socialists, communists, liberals, trade unionists, community activists and others, including, initially, some unionists. This is reflected in the make-up of the 13-member steering committee set up on 29 January to draft a constitution and a programme of campaigning.
2008 also marks the 40th anniversary of NICRA taking to the streets. The decision to move beyond being a pressure group followed a decision by the unionist government to ban an Easter commemoration through Armagh in April of that year.
Sinn Féin was already illegal and the previous year the unionist government banned the Republican Clubs. These decisions spurred NICRA into accepting that demonstrations could play an important role in challenging the abuses of the unionist state. Consequently, 1968 saw the first Civil Rights marches and the first serious assaults on civil rights marchers by the RUC.
Flagging Sinn Féin's series of commemorative events to mark this turbulent period, Gerry Adams said:
"We will remember all of those, republican and nationalist, socialist and communist, trade unionist and community activists who gave NICRA the strength and diversity to be such a powerful force for change at a pivotal time in our history.
"These events will also provide an opportunity to focus on the problems of inequality and discrimination that still exist and how we can bring an end to these abuses in our society.
"I want to extend an invitation to all those who played any part in the Civil Rights campaign, as well as those who today are still active on equality and justice issues, to join in these events.
"NICRA has left a powerful legacy of change and progress but the goals which it set for itself at its first AGM in February 1968 and subsequently in April of that year when it ratified its constitution are still as important and relevant for today as they were then."
The five objectives of NICRA, as set out following the April meeting, were:-
1)     To defend the basic freedoms of all citizens.
2)     To protect the rights of the individual.
3)     To highlight all possible abuses of power.
4)     To demand guarantees for freedom of speech, assembly and association.
5)     To inform the public of their lawful rights