31 January 2008 Edition
Jacobs job losses huge blow to local community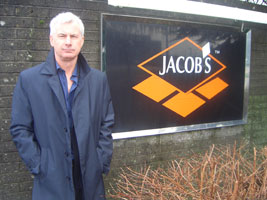 THE Jacobs Fruitfield factory in Tallaght is to close this year with the loss of 220 jobs. The company said that the job losses at the Belgard Road branch of the biscuit factory chain will occur as a result of their restructuring which will see their manufacturing operations moving to Eastern Europe.
This is a massive blow to the area as Packard Electric closed in Tallaght in 2004, leaving 800 people unemployed.
Responding to the news, Sinn Féin representative Seán Crowe said this is another shock for families. He rejected the company's excuse that outdated equipment is making the facility uncompetitive and a claim that the money from the sale of the Jacobs site at Whitestown Industrial Estate is to go towards maintaining both the jobs and the facilities at Tallaght.
Speaking on Friday, Seán Crowe said:
"The scandal in all of this is that when the Jacobs factory at Whitestown was being sold, South Dublin County councillors rezoned the land to housing on the basis that the profits made on the site would be directly reinvested into maintaining facilities and safeguarding the existing jobs at the Belgard factory. This money has not been invested and therefore the argument from the company that the factory is uncompetitive due to outdated equipment does not stand up. The money from Whitestown should have provided this factory with top-quality equipment.
"The loss of these jobs will be a huge blow to the local Tallaght community. The employees at Jacobs have been a loyal and hardworking workforce that has served the company and this community for decades.
"For years the Government has being promising action to stop the loss of jobs in the manufacturing sector yet these have proven to be empty promises. The loss of these jobs will bring unemployment in Tallaght very close to the 4,000 mark, the second highest area in Dublin with the fastest-growing unemployment levels."
Crowe said these cuts follow other job losses in the area such as at Loctite, APW, Packard, Gallaghers, and Sujitsu.
"Employment Minister Mícheál Martin must now come up with a new initiative to halt the steady decline of traditional jobs not only in Tallaght but in the rest of the state as well. These jobs need to be replaced with good-quality, well-paid alternatives. This will have to involve the retraining and upskilling of workers for the new enterprises."
Seán Crowe met workers' union reps from the ATGWU, SIPTU and Bakers' Union in the Jacob's plant on Belgard Road on Tuesday of this week to discuss the situation. "People are very annoyed and aggrieved," he said, adding that the €10 million redundancy and training package announced by the company is not sufficient to cover all the workers affected.
He said that Sinn Féin will be raising this latest jobs crisis in Tallaght with Employment Minister Martin in the Dáil.