31 January 2008 Edition
Forum on Europe must provide unbiased information on Treaty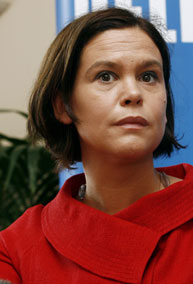 THE National Forum on Europe should provide unbiased information during the Lisbon Treaty referendum campaign, Sinn Féin MEP Mary Lou McDonald said this week. Her comments come as the Forum prepares an information guide to the treaty.
The Forum itself says its purpose "is not to advocate or promote a particular course of action. It is to be a politically neutral public space within which political views and analyses of all shades can be put forward on the EU and on Ireland in the EU."
Welcoming the Forum's stated objective of presenting the guide in a manner that is factual, informative and non-biased, Mary Lou did say that Sinn Féin is "deeply concerned" about the current draft of the Forum's document.
She said the document contains a number of factual errors and omits significant amounts of information "which we believe is central to any balanced understanding of the Treaty".
The Dublin MEP recently met the Forum's director, Charles Sheehan, to express her concerns in person.
"I presented him with 150 specific changes that Sinn Féin is seeking, many of which deal with some of the treaty's most controversial aspects, such as public services, military spending, nuclear energy and the self-amending clauses of the treaty. The meeting was constructive and I look forward to hearing from the Forum in the coming days."
Meanwhile, on Monday, ahead of the Dáil's resumption, Mary Lou McDonald said the FF/PD/Green Government should stop stalling and set a date for the referendum. She said that weekend opinion polls have indicated an increase, again, in 'Don't Knows' when voters were asked how they intend voting on the Lisbon Treaty. This trend, she said, is not in anyone's interest.
"The Government must stop stalling and set a date for the referendum.
"Despite the fact that all but 10 articles of the 250 or so articles of the new Lisbon Treaty are the same as its maligned predecessor, the EU Constitution, the Irish people have been denied a robust, mature, informed debate from the 'Yes' campaign. The Government has been the worst offender.
"We may be the only state in Europe to vote on the Lisbon Treaty. This puts an enormous responsibility on both campaigns' shoulders to ensure that, before the referendum, people fully understand the content and implications of the treaty.
"Sinn Féin wants Irish society to have a mature, honest and robust debate in advance of the referendum.
"We want to debate the issues within the treaty and what they mean for Ireland, the EU and the wider world. It is government's responsibility to take Sinn Féin's lead.  Bertie Ahern needs to stop stalling, announce the referendum date and let the campaign begin."