10 January 2008 Edition
Caraher family still seeking justice after 17 years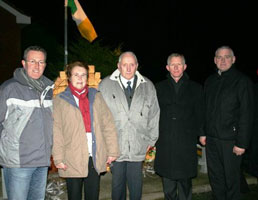 SPEAKING at the 17th anniversary commemoration of 20-year-old Fergal Caraher, who was shot dead by the British Army in the village of Cullyhanna on 30 December 1990, Newry and Mourne Sinn Féin Councillor Brendan Curran told people at the candle-lit procession in the South Armagh village, that 17 years later the Caraher family still awaited justice over the brutal murder of their son.
Brendan Curran said:
"Whilst we as republicans remember Fergal as a comrade and see him and his sacrifice as an important event and catalyst in our freedom struggle, his family come here tonight and remember him as a loved and cherished son, brother, husband and father who is missed sadly and loved so much.
"Fergal was the fourth son of nine children in the Caraher family, a family which are unashamedly republican – dedicated to the republican cause of a united Ireland."
He told the large attendance that Fergal was a 20-year-old and a married man with a young son Brendan at the time of his murder.
"Fergal went to St Patrick's Primary School, Cullyhanna, and St Colman's College, Newry, and was a very popular young man, well-liked by young and old. He was very witty and good fun to be with. Fergal, following the example of his parents, was committed to work within the community, was a member of St Patrick's Youth Band and had played on the local school Gaelic football team.
"He played an active role in all the activities in his local community. He was a member of Sinn Féin. From an early age he became aware of the human rights abuses and murders carried out by the British Army in this and all other areas in the Six Counties. So it was no surprise to anyone who knew him that, at the young age of 16, he quickly became an active member of the local unit of the Irish Republican Army – playing a full and active part in the struggle in this area.
"Seventeen years ago this week, on a cold and grey Sunday night, Fergal and his brother Micheál were attacked and shot without warning or reason in their car here in this village by members of the murderous Royal Marines. This notorious shoot-to-kill incident resulted in the death of Fergal and left his brother Micheál seriously injured."
The Sinn Féin councillor concluded by calling on all present, in memory of Fergal and all those who in the continued struggle for freedom had paid the supreme sacrifice, to proudly continue to hold their heads up high and rededicate themselves to achieving Irish unity and securing the Ireland of equals that we all desire.
The proceedings were chaired by Slieve Gullion area Councillor Colman Burns