10 January 2008 Edition
Brigid Hannon celebrates 90th birthday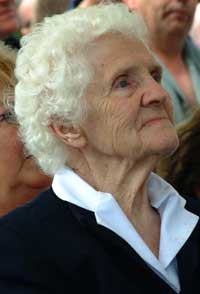 ON Thursday, 3 January, republicans throughout Belfast and beyond joined to wish a very happy 90th birthday to veteran Belfast republican Brigid Hannon. The day was marked with cards, letters and good wishes from her family, friends and comrades in the Republican Movement.
Brigid Hannon has lived all her life in West Belfast, where she joined the Republican Movement, and Clonard Monastery Confraternity on the same day when she reached the age of 16. She has remained a loyal member of the Movement throughout her life. Her commitment and dedication have been an inspiration to many republicans and has earned her the respect of everyone she came in contact with.
She is a founder member of the Belfast National Graves Association and the Green Cross '73 committee, set up to assist the families of republican POWs. More recently she has been closely associated with the Irish Republican History Museum, established by her very close friend and former Armagh Jail O/C, the late Eileen Hickey. Brigid is also a member of the Tar Anal over-50s group
At every election, Brigid put many of her younger comrades to shame with her energy and enthusiasm, campaigning on the streets of West Belfast, remaining on duty from the casting of the first vote to the counting of the last.
Now residing in a West Belfast nursing home, Brigid still has very close contact with her friends and comrades who, with her family, wish her many more years of happiness.