10 January 2008 Edition
Education critical as thousands of building jobs at risk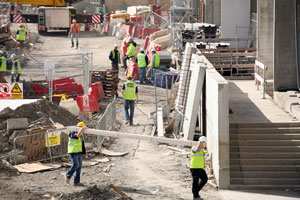 Sinn Féin Senator and Spokesperson on Education Pearse Doherty has called on the Irish Government to start adequately planning now for a downturn in the construction sector. Senator Doherty made his comments after the Higher Education Authority (HEA) in the 26 Counties repeated what Sinn Féin has been saying for a long time, that thousands of men working in the construction sector are at risk of long-term unemployment in a downturn because of low education levels.
According to the 2006 census over 80,000 young men working in construction have only secondary education, which is often incomplete. HEA Chief Executive Tom Boland said that many were drawn to construction by short term considerations, and high earnings. He is urging these young men to return to higher education. But he acknowledges that inadequate supports exist to facilitate such a shift in lifestyle, and is calling for a review of the Government's approach to life-long learning.
The trade union SIPTU says the prospect of long term unemployment for tens of thousand of young men is worrying, and wants to see increases in investment in training sooner rather than later.
Sinn Féin Senator Pearse Doherty said, "As the construction industry continues to slow down the Government has put nothing in place to help the thousands of workers who face losing their jobs.
"The statement from the HEA highlights a crucial fact – many of these workers do not have any education beyond second level, something which is not compatible to the kind of research and development economy we should be aiming to develop in this state.
"The Government must act now to make sure that every opportunity is made available to these workers to upskill and educate themselves. FÁS in particular have a huge role to play in this and should be provided with the resources to do so.
"Whatever resources that are needed to enable people to go to college or take on alternative apprenticeships or training, must be made available. The cost of paying social welfare to thousands if the sector takes a more serious downturn would only amount to this kind of cash outlay after the fact and would do nothing to prevent the sort of depression that will descend on this state if jobs begin to go. The opportunity must be seized to improve our economy."