29 November 2007 Edition
International: Family of murdered Mexican human rights lawyer challenges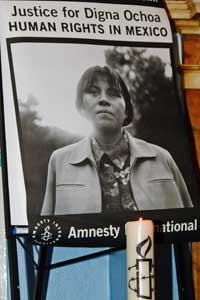 Digna Ochoa A case for justice
BY INAKI IRIGOEIN

IT is now six years since Mexican female human rights lawyer Digna Ochoa was killed, on 19 October 2001. At the beginning of this month, her brother, Jesus Ochoa, visited Ireland as part of the family's efforts to ensure a proper enquiry into the events surrounding her death. Jesus, the rest of Digna's family and her colleagues believe that her death was caused for her dedication to the defence of people who opposed the status quo.
Her career involved the representation of various activists and in some cases raised allegations of human rights abuses, including torture, by government authorities, particularly the army.
Among her clients were suspected Zapatistas and other people charged with membership of insurgent organisations in Mexico. Digna also denounced the massacres of campesinos (peasants and farmers) and indigenous peoples, such as those that took place in Aguas Blancas and Morelia. Ochoa was also involved in the case of the 'Fathers of the UNAM' during the student strike at the Autonomous University of Mexico City, where over 1,000 students were arrested and their fathers took a case against the state.
Rodolfo Montiel and Teodoro Cabrera, two small farmers and environmentalists from Guerrero who were arrested and tortured by the army and sentenced to six years and ten years in jail on the basis of their statements while in military custody were also her clients. Although the two men received a presidential pardon and were released in 2001, both men still hold a criminal record.
Ochoa had just taken on her last case on 20 October 2001. The three Cerezo-Contreras brothers, students at the UNAM, had been sentenced to over 10 years' imprisonment in 2001 for small explosions that caused material damaged to a bank office in Mexico City. But Digna did not get to see the resolution of many of her cases as her body was found in the law office where she worked on 19 October 2001.
Several investigations followed her death. Although Mexico City officials initially ruled her death homicide, in March 2002 they ruled that it was suicide. A note was found by her body, warning the members of the human rights law centre where she had recently worked that the same thing could happen to them. Now her family is afraid that the reopening of the case will not address their questions but will rather be used by the Mexican Government to reassert the conclusion of death by suicide even though everything pointed out she was killed as a warning to other human rights lawyers.
The autopsy report indicated that her body had two .22 calibre bullet wounds. Her death was caused by a gun-shot to the head. The entry wound was on the left side. According to the coroner's report, the bullet passed through the skull from left to right on a slight angle from up to down and from back to front. The bullet remained embedded in her right temporal bone. Ochoa was right-handed. The other bullet entered Digna's thigh from front to back.
Ochoa was only 37 when she was killed but she was already known in judicial circles for being a principled and skilled lawyer in the midst of a corrupt Mexican legal system. When she was working part-time for the Veracruz Attorney General's offices in 1986, and two years later, by chance she discovered a 'black list' of union and political activists at the office of her employer. This was the first time Ochoa would directly get to know the treatment that the Mexican state offered to those it deemed traitors. She was abducted and Ochoa recognised her abductors as state police officers. They raped her. There was never an investigation of her ordeal.
Those events naturally affected Digna deeply. In 1991, she entered the Dominican Convent of the Incarnate Word, where she studied until 1999. She left without taking her vows. However, by August 1999, Digna Ochoa was again kidnapped and held in a car and interrogated overnight in Mexico City. She was released and, after a Mexico City Police investigation, the Inter-American Human Rights Court recommended protection for her.
However, by August 2000, the situation had deteriorated so much that Ochoa decided to go into exile in Washington DC, USA, and, while in exile, she was presented with Amnesty International's Enduring Spirit Award in Los Angeles by actor Martin Sheen.
In March 2001, she returned to Mexico City and in August 2001 the court-ordered protection for her was lifted. She began work in the law offices at 31a Zacatecas Street in Mexico City on 16 October 2001, only three days before her death.
As Jesus points out, this case is not only about justice for Digna the lawyer but for "a person that became known for her defence of human rights and who took on difficult and complex cases", and for Digna, the victim of state violence. Her family feels that a proper investigation into the circumstances surrounding her death would establish a precedent in Mexico and may open the door to similar inquiries and an end to impunity for perpetrators.
In some ways, Jesus's presence in Ireland is a challenge to what he calls "the very effective publicity strategy" of the Mexican Government. While it tries to present an image of a democratic government, the reality of the country is one where the authorities not only fail to defend the rights of the citizens "but are responsible for daily gross human rights violations".
Jesus Ochoa believes that successive Mexican administrations have failed to address this problem.
"In fact, the current president, Felipe Calderon, has surrounded himself with members of the army. He has sent soldiers into all communities and rural areas in a policing role when the army is not prepared to investigate or press charges against criminals.
"Soldiers know how to wage war. So, this has systematically contributed to the increase of human rights violations in the country."
The family of Digna Ochoa wants justice not only for Digna but for all those people who are being victimised by the system, like many of those people defended by Digna.
"We are asking the international community to pay attention to the question of human rights in my country and specifically the European Union to act on their agreement with Mexico that ties any commercial relation to the upholding of human rights."
It remains to be seen if the European Union is true to its word.