29 November 2007 Edition
HSE u-turn on Navan Hospital unit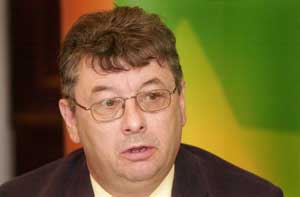 The Health Services Executive (HSE) has reversed its decision to close the regional treatment unit at Navan Hospital for the month of December in a cost cutting exercise. Meath Sinn Féin County Councillor Joe Reilly has welcomed the HSE u-turn.
Reilly said that the announcement that the Regional Orthopaedic Unit in Our Lady's Hospital would be reopened and that 30 operations would proceed, was a small victory for those who challenged the HSE decision and a welcome victory for the chosen  30 patients and their families.
"While I welcome the decision of the HSE to respond to public pressure and re-open the Regional Orthopaedic Unit in Our Lady's Hospital Navan in the first week in December I absolutely reject the strategy of the HSE management in closing the unit for the remainder of December 2007", Reilly said.
The Navan-based County Councillor said that the latest HSE decision did not make sense either on medical or financial grounds. Four-hundred-and-thirty people in Meath, Louth, Cavan and Monaghan remain on waiting lists. Reilly described as "outrageous" the fact that a regional unit such as that  in Navan would close at any time of the year. He said it was also clear that the reasons advanced by the HSE for closing the unit on financial grounds were "spurious".
A Sinn Féin organised vigil will go ahead as planned next Saturday unless the HSE again change their minds and extend the opening of the unit for the month of December.
"We ask everyone who has one hour to spare to come to the gates of the hospital and say again to the HSE that we demand the full re-opening of the Regional Orthopaedic Unit in Our Lady's", Joe Reilly said.
Sinn Féin Vigil and colourful street theatre in the form of a

Bed Push
12.30pm Saturday 1 December
from Navan Shopping Centre to Our Lady's Hospital
vigil will take place 1-2pm
at the Gates of Our Lady's Hospital, Navan