29 November 2007 Edition
Too much consensus in disjointed but thought provoking programme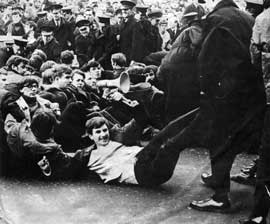 TV REVIEW
Hidden History: The Irish Historian
Directed by  Seán Ó Mórdha  
RTÉ One Television,  27 November 2007

Reviewed by Dubhaltach O'Donavan

This was a disjointed survey of the field. Disjointed, because it was a bunch of Irish historians sitting in a room, but separately. Many censored themselves in the interest of professional decorum. They masked their disagreements in a display of good manners.
Brendan Bradshaw put it best when he criticised the journal Irish Historical Studies, "what it needed was a row". "Too much consensus".
However, with refreshing candour, Cormac Ó Gráda told us that some historians hold each other in "mutual hostility and contempt". There was little of it on the screen. The causes were mentioned but not explored. Tell us more, please.
Conor Cruise O'Brien appeared momentarily as shaper of Irish history, politics and broadcasting in the 1970s. Roy Foster intoning that the censor's contribution was "enormous", was followed by CCOB's dreary tones in defence of censorship. O'Brien described Irish national history as a "virus", and he is taken seriously. What if he had said it of the history of the Jews?
The Waterford born Foster suggested that Irish people are the author of their own misfortune. But CCOB and himself are abstracted from blame. Some years ago Terry Eagleton perceptively summed up the Foster view, "Halitosis is what the other fellow has". The programme needed to puncture this sanctimonious cocoon. It ventured close, but not close enough.
Foster and the rest got the North after 1968 all wrong, while admitting that history was written to order after that date. Introspection ruled. "Irish" violence was problematic, British violence ignored. The Southern state's paranoia was unexplored. Section 31 censorship mentioned, but its importance left hanging.
The North did not erupt in violence after 1968 because of Irish atavism. British atavism and the violent forces it long nurtured and tolerated played their larger part. The 1921 sectarian partition settlement fell apart in the part of Ireland that Britain ruled. It was a mini South Africa. No point in stating the obvious.
It was not an imagined past or the Irish literary imagination that emerged from the mean streets of Belfast in 1969. There were no Yeatsian plays sending Irish men and women "the English shot". In Twinbrook in the early 1970s Bobby Sands addressed experience not history when he joined the IRA. Perhaps historians should stick to the past. In the present many are at sea.
Irish people have a passion for history. Historians are quietly killing it because they are afraid that if they get too excited real killing could begin. Historians are not that important. History is. Conflict is produced by the present. The dead weight of the past is lifted when it is explored without fear of the consequences. Instead, Irish history today is written to an ethereal agenda. It keeps the middle class intelligentsia in line. Historical revisionism, with a "Big R", is, as Brendan Bradshaw pointed out, "pernicious". It produces bad history, inaccurate history and the recent RTE Hidden History programme that saw appointed Senator Eoghan Harris ranting and raving about an invented IRA atrocity in Offaly in 1921. It makes that kind of fictional history possible. Luckily, there are those ready to fight for accuracy. They don't work in history departments, because historians are aloof from the battle for history. Many Irish historians are too self-important to take history seriously or to be taken seriously.
Nevertheless, a thought provoking programme.
An Phoblacht Magazine
AN PHOBLACHT MAGAZINE:
Don't miss your chance to get the second edition of the 2019 magazine, published to coincide with Easter Week
This special edition which focuses on Irish Unity, features articles by Pearse Doherty, Dr Thomas Paul and Martina Anderson.
Pearse sets out the argument for an United Ireland Economy whilst Pat Sheehan makes the case for a universally free all-island health service.
Other articles include, 'Ceist teanga in Éirinn Aontaithe', 'Getting to a new Ireland' and 'Ireland 1918-22: The people's revolution'.