29 November 2007 Edition
INTERVIEW: Peter Graves, Manager of the Sinn Féin Bookshop in Dublin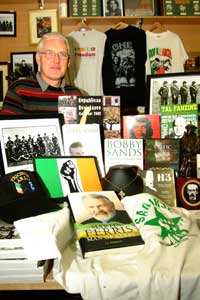 Books, politics, rumours and bears
IF YOU'RE reading this paper, the chances are that we have just have the solution to some of your Christmas shopping problems – a visit to the Sinn Féin Bookshop at 58 Parnell Square, Dublin.
There's a teddy bear dressed in combats called Bear Bua (Beir Bua – get it?). It's not for sale although he does sell autographed self-portraits. And speaking of celebrity autographs, you can get signed copies of Gerry Adams's works, including his recently published Ireland's Eye, as well as other good reads from Martin Ferris and Danny Morrison among the many others.
'The Shop', as we republicans call it, is in the same building as An Phoblacht and is more than a shop – it's an institution. No, not that sort but a meeting place where like-minded people drop in to collect the paper, get the latest news or just to have a chat with the likes of PETER GRAVES, one of the people who run the place.
Peter talks to ELLA O'DWYER about the atmosphere in Dublin's Sinn Féin Bookshop, the reasons he loves working there and what's on offer by way of Christmas gifts.
All said and done, it is just a bookshop, isn't it?
No, it's much more than that. It's a political centre. Of course its main function is selling books, papers, T-shirts, flags, badges but it also has a crucial role in terms of advancing the republican project as a personal contact point for people, maybe their first contact with Sinn Féin on their terms, when it suits them, at their own pace. And it's a welcoming place.
It's fascinating to note the range of people who visit the shop, from the elderly to the very young. The shop has been an avenue through which people have joined the party. Some people are shy about walking directly into Sinn Féin Head Office so they find it easier to broach the issue of joining the party in the middle of a conversation about buying a book. We're more accessible here.
Often people who come in aren't political activists and their only real contact with republicanism and radical politics is through the shop. We're always ready to chat to people if they ask questions or the like.
A lot of the time there's a big element of banter and fun. People come in here for news and the shop here generally hears all the rumours first and they're all wrong – and by the time we're finished spreading them, they're even more wrong [laughs].
We also keep an information stall. We like to think of the shop as more than just a place for selling things. We really like to think of it as a kind of centre, a place of first contact for people. At the end of the day, the shop has to cover itself too so the funding aspect is important but it's not the be-all and end-all.

So it's more than just a place to buy books?
It's more like a venue for republicans and also a kind of reception area where the public come in and get a feel for what republicanism is about.
It's quite unusual nowadays for a political party in Ireland to have a shop connected to it and I think that stems from the days when censorship was rife. Because the public were prevented from hearing the voice of the Republican Movement, people wanted to read about and see representations of what we were about. Because the Establishment tried to physically suppress and silence republicanism, the impetus was there to get our message out in other ways. When normal channels aren't open to you, you try to open up different and more imaginative methods.
The cornerstone of the shop has been selling An Phoblacht but we also sell other Sinn Féin publications such as the publication to mark the hundredth anniversary of Sinn Féin, Sinn Féin, A Hundred Years of Struggle, which is an excellent pictorial and well-written book. Then, of course, we have the famous Republican Resistance Calendar, which is always very popular (except with the Irish Independent and The Daily Telegraph, although they always give us acres of publicity), and this year the An Phoblacht Diary is back with selected sensational front pages from the paper over the years.
The books, of course, are amongst our best sellers. Though we're a relatively small shop, we have a very comprehensive selection of Irish historical and political works. The selection tells the story of Irish history right up to the present and we like to sell stuff that might not be found in other bookshops which are quite happy to cut off after the Rising. Even the Civil War seems to be too controversial for them.

Is this the only Sinn Féin bookshop?
No, there's other shops around the country but this is the Mother Ship, in a manner of speaking, probably because it's situated at the heart of the capital and just opposite where a lot of the action took place during Easter Week 1916, off the top of O'Connell Street and opposite the Rotunda, close to Moore Street.
We've held book launches and book-signings and press conferences here too and we welcome events like that. As I said, it's not just a shop but more of a centre and facility and often a hive of activity.
For republicans, you could say it's also a kind of a museum but a living one.

You run historical tours from here too, don't you?
We run daily tours on the theme: Dublin: The City That Fought An Empire. The tour starts from the shop here and the guide walks groups through the city to various landmarks which were central to the 1916 Rising.
The tour guide tells the story of the Rising, how the forces of the Irish Citizen Army and the Irish Volunteers came together as the IRA to take on the might of the British Empire. People love the tour and there's been wonderful feedback from participants.
It's not necessary to book. You just call to the shop and you'll be taken on the tour.

Looking around, there also seems to be a big international emphasis in the merchandise on sale.
Yes, we don't just sell books on Ireland. We cover international struggles like South Africa, the Basque Country, Palestine and the like, and many of our visitors are from those countries. All sorts of people visit the shop.
You could break them down into a number of groups. Our main group is the An Phoblacht buyers who come in every week to get their papers. They're usually party activists and while they're collecting their papers they look to see if there are any new books in. Then we have people who, though not Sinn Féin members, would be republican-minded and they come again for the books mainly but also to chat about current affairs and what republicans think of this or that. We also get a lot of students, people doing history projects looking for materials not readily available elsewhere.
Then, of course, there's the tourists. We get Catalans, Basques, French, Italians, Germans, Dutch, Palestinians, South Africans and people from South America and Central America. There's a good few from Scotland and Wales and the English trade union and labour movement too. But our perennials are people from the US. They come in to buy things to raffle for fund-raisers and the like and for emigrant friends and families living overseas who still support the republican struggle. The bodhráns go down well because they are made in Castlereagh Prison and people like to have something made by the POWs.

What are your own favourite items in the shop?
I really like the historical black and white photos depicting different eras like the Civil War, the Flying Columns, Tom Barry, the First Dáil, Bobby Sands, Mairéad Farrell – the whole collection. They're only €20 each – great value. Then we have the bronze cast plaques. They are particularly impressive.

What about Christmas?
Well you won't find any of Santa's elves here but you can find something novel for relatives or friends who are republican minded – and it's likely to be appreciated because there's some thought gone into it.
Apart from the autographed books, the Fenian claddagh rings – actually designed by the Fenians without the crown – are popular.
Very often people coming from the countryside to Dublin for their Christmas shopping will include a visit to the shop here.
Diaries and calendars are big sellers and we also sell Christmas cards – winter scenes at the GPO. We have gent's gold and silver rings with Óglaigh na hÉireann engraved on them and there's the crested polo shirts and T-shirts.

Tell me about Bear Bua, that teddy bear dressed in combats on the shelf over there.
Bear Bua was found a few years ago on the floor of the original shop on the ground floor of Sinn Féin Head Office in 44 Parnell Square by Patrick Regan, a man better known to many republicans as 'Wacker'.
We knew from the slightly worn look of the toy that Bear was a well-loved bear and Wacker was concerned that it might have belonged to some child who accidentally left it behind. Wacker figured that the child could be anguished at the loss of something so personal so we put the toy in a prominent place in the shop in case the mother came back looking for it. Nobody retrieved the teddy bear so we adopted it and over time it became a kind of mascot.
Then, come Christmas, a man called 'Bullets' – another regular visitor to the shop – called in with a special costume for the bear. All dressed up in its combat finery, we decided that the obvious name was Bear Bua. He's not for sale but because he has so many admirers we produced framed portraits of him, which he'll happily sign for anyone interested. The photo was made for a raffle but it actually became very popular [laughs].
In fact, we've quite a few things here that would appeal to children – the badges, wrist-bands and Irish-language books for children from about five years upwards.
And if you can't get here in person, you can always order online and even set up your own account at www.sinnfeinbookshop.com

An Phoblacht Magazine
AN PHOBLACHT MAGAZINE:
Don't miss your chance to get the second edition of the 2019 magazine, published to coincide with Easter Week
This special edition which focuses on Irish Unity, features articles by Pearse Doherty, Dr Thomas Paul and Martina Anderson.
Pearse sets out the argument for an United Ireland Economy whilst Pat Sheehan makes the case for a universally free all-island health service.
Other articles include, 'Ceist teanga in Éirinn Aontaithe', 'Getting to a new Ireland' and 'Ireland 1918-22: The people's revolution'.