29 November 2007 Edition
European Court rules in favour of families of collusion victims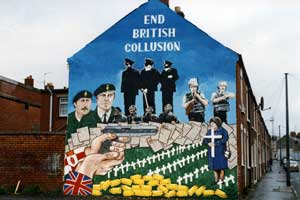 The European Court of Human Rights in Strasbourg has made a judgment in favour of the families of eight men who were murdered by unionist paramilitaries working in collusion with the RUC and the British Army's Ulster defence Regiment in the South Armagh area in the mid 1970's.
Sinn Féin Newry/Armagh MP Conor Murphy has welcomed the ruling which said that the murders of the eight men had not properly been investigated.
The cases related to the deaths of Colm McCartney, who was murdered at Altnamackin in August 1975; Trevor Brecknell, who was murdered at Donnelly's Bar, Silverbridge in December 1975; John, Brian and Anthony Reavey, murdered at Whitecross and Joseph, Barry and Declan O'Dowd murdered near Gilford on the same evening as the Reavey brothers in January 1976 and the wounding of Michael McGrath in a gun attack at the Rock Bar, Keady in June 1976.
 The cases were taken to Strasbourg following the failure of the British Government to properly investigate detailed allegations made by a former member of the RUC, John Weir, about security force collusion.
In a statement the families' legal representative, Fearghal Shiels, of Madden & Finucane, Solicitors, Belfast said on Tuesday:
"In 1999, the RUC purported to conduct a police investigation into John Weir's allegations. The RUC took no steps to interview John Weir, and irrespective of the cogent and credible evidence of widespread collusion by members of UDR and RUC with a loyalist murder gang based in Mid-Ulster, concluded that his allegations were false.
Today's findings by the European Court of Human Rights that the families' human rights were breached by the UK Government vindicates the families' central contention that there was a total lack of independence, transparency and accountability on the part of the RUC, in investigating the activities of this murder gang."
The families are this week arranging to meet with their solicitors to discuss the important implications of the ruling.  
Sinn Féin's Conor Murphy said:
"There is clear evidence of collusion in the murders of John, Brian and Anthony Reavey and Joseph, Barry and Declan O`Dowd, Colm McCartney and Trevor Brecknell and the wounding of Michael McGrath in South Armagh in 1975 and 76.
"This was also supported by former RUC officer John Weir in 1999 who pinpointed the base of operations used by the Loyalist gang responsible for these murders that was owned by another RUC officer.
"This unanimous ruling highlights the lack of independence within the RUC investigation into the allegations of collusion but there are many other unanswered questions about the relationship between this Loyalist gang and members of the RUC and UDR.
"Sinn Féin will continue to support the families bereaved as a result of the British State sponsored policy of collusion between the British Army, UDR and RUC and Loyalist paramilitaries.
"The lid must be lifted on the whole issue of collusion. The families of all those killed down the years, not just in South Armagh but all of the victims of British State collusion deserve the truth about their loved ones."