29 November 2007 Edition
Germans fail in latest McAliskey extradition attempt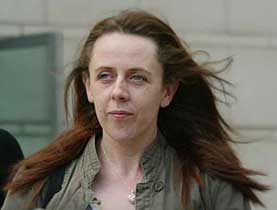 ATTEMPTS by German authorities to extradite Róisín McAliskey to face trial for the attempted killing of British soldiers in 1996 have failed.
Judge Tom Burgess, sitting in Belfast Recorder's Court on Friday, 24 November, refused the application by German legal authorities to have McAliskey extradited on foot of a European arrest warrant.
In his judgement, Burgess said that McAliskey believed the case against her had been dropped until she was arrested at her Coalisland home in May of this year.
This belief, that the Germans no longer sought her arrest, was based on the 1998 ruling, made by then British Home Secretary Jack Straw, when he refused to extradite McAliskey due to her ill-health.
Also, the British Attorney General Lord Williams adjudged, seven years ago that there were no grounds for legal action in Britain against McAliskey.
Burgess went on to say: "It would be oppressive [to extradite] because of the passage of time."