29 November 2007 Edition
Sinn Féin takes case for Irish language legislation to Brussels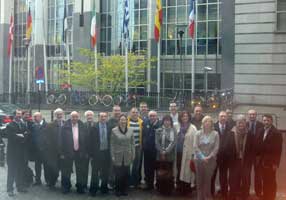 Sinn Féin MEP Bairbre de Brún, Francie Brolly MLA and Senator Pearse Doherty  led a 25-strong delegation to Brussels last week to highlight the case for Irish language legislation in the six counties.
On Wednesday 21 November, Bairbre de Brún hosted a delegation of Irish language activists from Foras Na Gaeilge, POBAL, ACHT, Conradh na Gaeilge, and other bodies at the European Parliament in Brussels to explore the situation of other languages across the EU and to discuss the urgent need for legislation to protect Irish speakers in the North of Ireland.
During the trip the delegation met MEPs from throughout Europe, and officials with a specific remit for minority languages.
A very useful meeting was also held with the European Commission to discuss multilingualism and also with the Irish government permanent representative, whose government has responsibilities under the joint governmental agreement reached at St Andrews.
Speaking during the trip Bairbre de Brún said: "A rights based Irish Language Act is the most effective way of protecting and enhancing the rights of Irish language speakers in the North of Ireland in the time ahead. Unfortunately, DCAL has missed the opportunity to reach out to Irish language speakers and to present linguistic and cultural diversity in an inclusive and positive way."