22 November 2007 Edition
Monaghan Republicans Honoured at Sinn Féin Event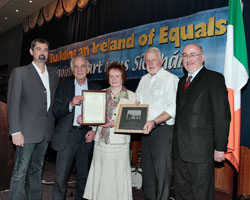 Over 300 people packed the Glencarn Hotel in Castleblayney last Saturday night to pay tribute to five party members who were given presentations in recognition of their contribution to their local communities and the republican cause.
Councillors Mariea Kelly and Matt Carthy were hosts for the evening.
In a wide ranging address Sinn Féin Kerry North TD, Martin Ferris, paid tribute to the honourees and to the organisers of the event.  "As republicans we do not thank each other enough and we do not acknowledge the lifetime of service that thousands of republicans have given.  We are proud of them all".
He commended the people of Cavan/ Monaghan for electing the Hunger Striker, Kieran Doherty, as a Dáil TD in 1981.  In 2007, he said, when the election results were not as positive as republicans may have wished for, Cavan/ Monaghan people once again stood up to the mark and re-elected Caoimhghín Ó Caoláin with an increased mandate, giving him one of the highest first preference votes in the state.
He said we must take encouragement from those who were honoured each year and from those who had given their lives and move ever closer to achieving their shared objectives – a united and independent Irish Republic.  He urged people to join Sinn Féin and "follow the example of those who have received honouree presentations here this evening".
Music was provided by Seanachie and by the Traditional Youth Band, Fuinneamh.
George McMeel
Cllr. Brian McKenna introduced the 2007 North Monaghan Honouree, George McMeel from Knocknagrave, Emyvale.
McKenna told the gathering that George, a native of Corryarabeg, Carrickroe was a founding member of the O'Hanlon/South Sinn Féin Cumann, Golan in the early 1970s.  He is well known for his keen sense of community spirit and was one of the founding members of Truagh Gaels G.F.C. who next year celebrate 50 years in existence.  A proud GAA man he played for the Gaels for a number of years and also served as Secretary to the club.
Brian McKenna stated that George McMeel is married to Peggy and they are parents of five children, Ann Marie, Eamon, Roisín, Kay and Malachy.  He worked as a member of the outdoor staff of Monaghan County Council until an accident in the 1980s which forced his early retirement.  "He is a man with a fantastic memory and in conversation can recall many practical jokes that were played on his fellow workers, although he continues to deny any personal involvement" McKenna joked.
Seán Tierney
Councillor Pat Treanor introduced Seán Tierney as the honouree for the Clones area. He told the audience that Seán, who was born in Bunmicheal, Roslea, Co. Fermanagh in 1947, moved to Corlat, outside Newbliss when he was just 7 years old.  He is from a well known and highly respected Republican family.
Seán spent time in Portlaoise Prison as an IRA prisoner and it was during his incarceration that he was diagnosed with Parkinson's disease.  "He has bravely fought his illness, demonstrating the same courage and determination that characterised his years as an active republican" Cllr. Treanor said.
Peter Smith
The Meara An Bhaile (Mayor) of Castleblayney, Jackie Crowe, introduced Peter Smith aka 'Teabags'.  A native of County Armagh, Peter was interned in the cages of Long Kesh.
He moved to the Mid-Monaghan town of Castleblayney in the late 1970s where he was immediately welcomed by the local community and soon became one of their own.  He is highly regarded by all who know him and assists many voluntary groups in their service to the local community.
Peter has been a dedicated and committed activist and as a member of Sinn Féin has, over the years, held numerous posts of responsibility in the John Francis Green Cumann in Castleblayney.  He is considered an inspirational character, especially among younger members of the party, and is renowned for his willingness to do whatever is asked of him, Cllr. Crowe said.
Pat Lynch
The Honouree for South Monaghan was Pat Lynch from Inniskeen who was introduced by Tommy McMahon.
Tommy stated that he was proud to call Pat Lynch a friend.  Pat Lynch was born in 1950.  He attended Inniskeen National School and Carrickmacross Technical School as it was then known.  He has a great love for Gaelic football and played for his local team Inniskeen Grattans up until 1977 when ill health forced him to retire.  In 1968 he was a member of the   winning County Minor Championship Team.
Tommy also shared some anecdotes from Pat's life as a republican activist, winning warm applause from the packed hall.  
"Pat Lynch is a respected republican leader in his own community and throughout the border region and he is as dedicated to the cause of Irish freedom today as when he first joined the republican movement in 1969" stated Tommy McMahon.
Pádraigín Uí Mhurchadha
Fellow Monaghan Town Councillor, Seán Conlon, said that he took particular delight in welcoming Cllr. Pádraigín Uí Mhurchadha and her husband Matt to the stage to collect her honouree presentation.  Cllr. Conlon reminded those assembled that in this, the 50th anniversary year of the death in action of her brother Feargal, Pádraigín was the unanimous choice of the members of Monaghan Town Council for the position of Cathaoirleach, Méara Baile, honorary First Citizen.
He described Pádraigín as an exemplary human being in every respect, and said that she has been a motivational leader within Irish republicanism for many years.  She continues to play a pivotal role in Sinn Féin and in the politics and community life of her home town and county, he said.
Cllr. Brian McKenna, Peggy McMeel, George McMeel, Martin Ferris TD and Caoimhghín Ó Caoláin TD
Seán Tierney receives presentation.  Also pictured are Cllr. Pat Treanor, Martin Ferris TD and Caoimhghín Ó Caoláin TD
Peter Smith receives presentation from Martin Ferris TD, flanked by Cllr. Jackie Crowe and Caoimhghín Ó Caoláin TD

At the SF presentation night in the Glencarn Hotel last Saturday were Tommy McMahon, Eileen Lynch, Pat Lynch, Martin Ferris and Caoimhghín Ó Caoláin.
Photos: Jimmy Walsh