22 November 2007 Edition
Reilly exposes paltry savings from hospital shutdown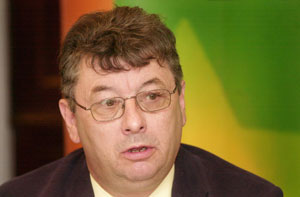 The reality of the Health Service Executive spending freeze is hitting hard in Meath and the North East this week. More than 150 orthopaedic patients are to have operations cancelled, while a total of 430 people on waiting lists for Orthopaedic treatment in Cavan, Monaghan, Louth and Meath will have their waiting times lengthened considerably after a HSE decision to close the regional treatment unit at Navan Hospital for the month of December in a cost cutting exercise.
The closure of the unit which carries out knee and hip surgery for the month of December will only save €339,397, the exact details of which were uncovered by Sinn Féin councillor Joe Reilly.
Reilly had quizzed the HSE about the supposed savings from the shutdown and Chris Lyons, the Network Manger of acute hospital services in the area confirmed by letter that operating theatres would be closed and only A&E patients suffering trauma and fractures would be treated.
The unit which has been the regional centre of orthopaedic treatment for over 30 years has faced cutbacks before such as in 1996 when there were delays in employing surgical consultants at the unit, but the latest closure is a serious blow to patient care in the region.
Sinn Féin Councillors Joe Reilly, Peadar Tóibín, Conor Ferguson, Michael Gallagher and Caroline Lynch have urged all those who are interested in the maintenance of proper services at Navan Hospital to make their views known by joining the Vigil. In a statement Joe Reilly said, "Cutbacks are negatively affecting the most vulnerable in society. Like many others, the people of Meath are justifiably angry. It is important that people channel this frustration into a clear and unambiguous message to the HSE and the government. We must tell them in no uncertain terms that the latest closure is unacceptable and further downgrading of Navan Hospital will not be tolerated."